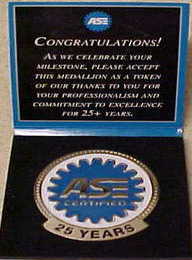 I try to provide auto repair help when I can. Before taking my current job I would make my rounds to some of the most popular automotive forums trying to help people with their auto repair questions.
I noticed a disturbing trend at these help forums. Some of the suggestions made me cringe. In fact, sometimes the recommendations seemed spiteful or designed to do harm. The internet isn't always the friendliest of places.
A lot of people dispensing advice might mean well, but in some cases the advice was very poor and even dangerous. It was also very hard for the person who posted the question to pick out a quality answer from the 30 or 40 responses from all walks of life.
Even though I have 30 years verifiable experience my tips were often ignored or disrespected by forum participants. I found and joined an automotive questions and answers forum that is quite different.
Who Answers these Automotive Questions
Both the people answering and submitting auto repair help questions are very serious about the level of quality. The just answer website pools automobile industry professionals and divides them into categories to answer questions for visitors.
The service does cost a few dollars but you only pay if you receive a helpful answer. When I say a few dollars I'm not kidding. You can donate as little as ten dollars to the qualified tested professional that provided the researched answer.
I challenge you to find a better place for car repair help. Some guys specialize not only in specific make and models but often know about you're particular problem. This is the only place I've seen where you can actually talk to a Certified GM Technician about you're Chevrolet.
Get Your Own Factory Repair Manual
Active dealership technicians have access to factory diagnostic and repair information from a list of manufacturer supported vehicles. Now you can access the same professional service and repair information used by over 25,000 repair professionals.
Just Answer Auto Repair Help Forum
The only way to truly find out what a great automobile repair forum this is would be to visit their website and see for yourself. You can type your car question into an easy to use box or click on the link on the top of the box to go and see what this website is all about.
Registration is free and you can browse through answered questions to get an idea and samples of the kind of quality this online car repair forum offers for do it yourself mechanics and auto repair consumers that need help.
For me this website venture is somewhat of a hobby at this point. I have recently put up a contact box so I can get some feedback about what subjects to cover in the future. If you ask a car repair question in this box be aware it may take a long time for me to respond. I wish things where different, but I have limited time to spend on the site right now. Update: Due to circumstances beyond my control the contact form has been temporarily removed.