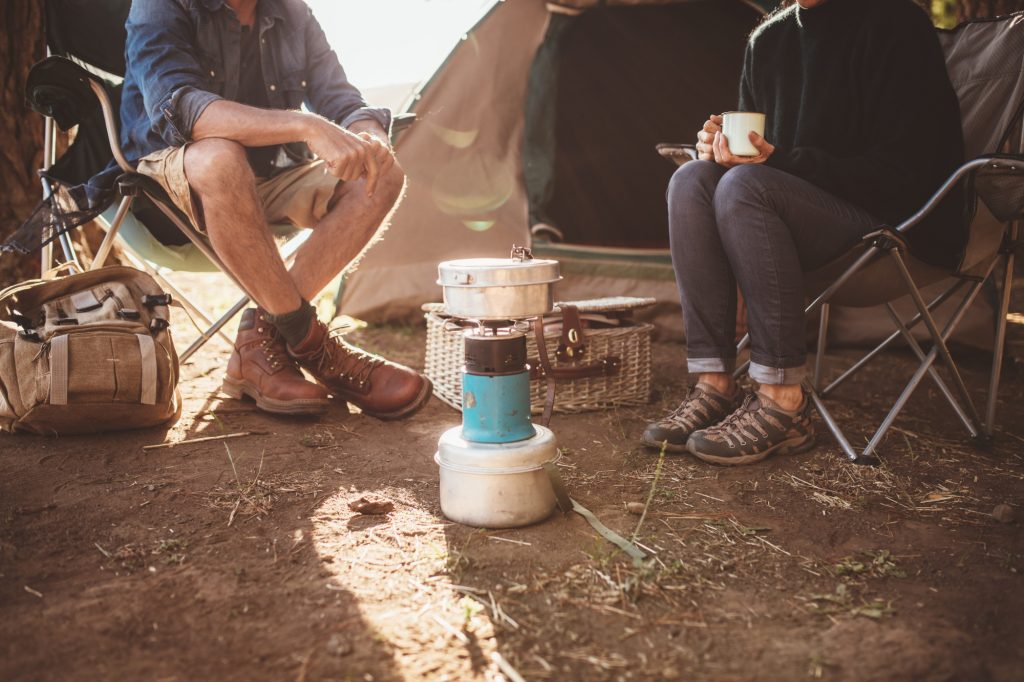 The number of people camping in the United States is growing, with five times more venturing out for the first time in 2020 than in 2019. Putting this into perspective, 48.2 million households went camping at least once in 2020, and of those 10.1 million were first-timers.
It doesn't matter whether you plan to stay in a campground or boondock out in the wilderness, use a tent or stay in an RV. Every camping trip requires planning and the right camping gear. Whether this is your first venture or you are a seasoned camper, stick around for information about the best camping accessories for 2021.
---
---
1. Thermacell MR300 Portable Mosquito Repeller
This scent-free, DEET-free mosquito repellent is lightweight, rugged, and easy to pack. It includes a fuel cartridge with three repellent mats providing 12 hours of coverage. Refills are available separately.
Evaluation by the EPA found it a safe and effective means of repelling those pesky mosquitos. The unit has an interior heating element with no open flame, no cords, and no recharging necessary.
2. Adventure Medical Kit
The Adventure Medical Kit is designed specifically for outdoor needs. It comes with a supply of treatments for a variety of animal attacks, injuries in the field, and more. The kit is organized by type of medical need and includes instructions on treating over 50 common outdoor injuries.
3. Stanley Growler Gift Set
Stanley is a well-known brand for vacuum insulated bottles. The 64 oz growler keeps liquids cold or hot for 18 hours. The set includes four stainless steel tumblers for serving up your favorite beverage.
4. Nemo Helio Pressure Shower
If you are tent camping in the wilderness, a shower is only in your dreams. That dream becomes reality with the Nemo Helio Pressure Shower.
This neat little device holds 2.9 gallons of water and provides 5-7 minutes of continuous water pressure from a 7-foot hose. The unit is great for washing dishes, dogs, and more. Simply place the black tank in the sun to provide a warm shower after spending the day hiking trails.
The unit and all parts store in a ventilated carrying sack for easy transportation.
5. Campervan
If sleeping in a tent isn't your style and you need some solid walls around you, consider a campervan. These compact motor homes provide you with the conveniences of a compact home on wheels. Sleeping 1-2 people, many include a wet bath.
You can't go wrong with this way of enjoying nature in comfort. To learn more about this camping vehicle visit recvan.com. You can shop both new and used inventory and will soon be driving away in a recreational vehicle that meets your needs.
6. Helinox Chair Zero Camp Chair
Who wants to sit on the ground and eat their dinner? When you pack a Helinox Chair Zero camp chair you have an ultralight, portable chair that is comfortable and easy to transport.
Best of all, it packs down to the size of most water bottles and only weighs 1 lb. It doesn't matter whether you are stashing it in your camper or backpacking in, it fits in easily with your other camping gear.
7. BioLite FirePit+ Wood and Charcoal Burning Camp Fire Pit
If you are looking for one of the most versatile camp accessories on the market, this is it. It is an all-in-one fire pit, stove, grill, and more. Folding legs make it easy to store or transport in a carry bag (sold separately).
The grill grate lets you easily prepare your meals. The high-temp enamel coating radiates more heat and lasts longer than any other fire pit. A USB rechargeable power pack keeps the fan for your fire operating for up to 30 hours on a single charge. 
We All Want New Camping Gear
It doesn't matter whether you have been seeking the peace of the woods for decades or are venturing out on your first trip, everyone wants the latest camping gear.  Once you have your camping trip planned kick back and relax by reading some of our other blogs for more great information that will keep you on the road to adventure.
---