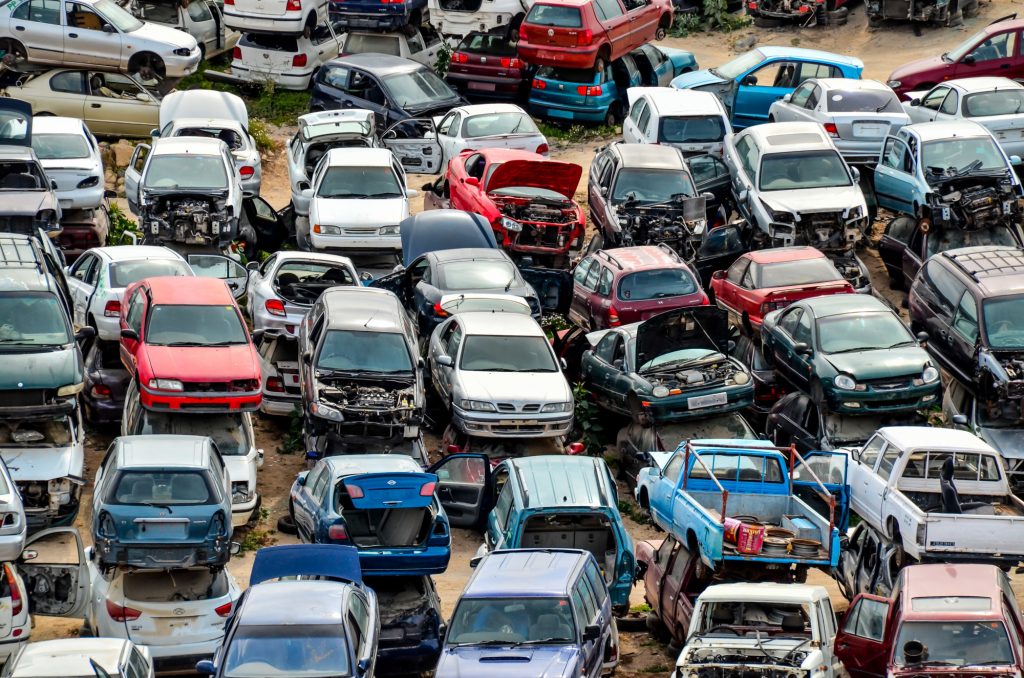 Auto salvage yards are used for a variety of things. You can visit one to sell your auto parts to or to purchase parts from. If you've never visited an auto salvage yard before, then it's worth trying one out.
There's nothing like seeing the thousands of vehicles stacked and parked side by side for miles. It's an experience you won't get anywhere else, plus you get to learn a few things about different vehicle makes and models while there. You may find the visit to be quite beneficial as well.
---
---
Are you wondering what the advantages of an auto salvage yard are and if using an auto salvage is the right choice for you?
In the guide below, you'll learn about a few different reasons to use an auto salvage. Continue reading to get started!
The Cost Savings
Where did you purchase your auto parts from the last time you needed a new part? Did you visit the dealership? Did you contact a local auto parts store?
Purchasing parts from an auto salvage can save you time and money. If you've never compared the prices before, then now is the time to do so. Contact your local salvage lot and ask about the price for the part you need.
If they have one in stock, then you may need to bring your tools to remove it from the vehicle it's in. Be sure to ask if you'll need to remove it yourself. Either way, you'll have the part that day.
You won't have to worry about waiting to order the part. It's also more fun than you'd think to get to go inside the vehicles and hand remove the parts from them to take home with you.
The Earnings
Did you know you can sell parts and whole vehicles to the salvage yards? That's right! If you have a vehicle that no longer runs or was in an accident, don't settle with the first offer you receive when trying to sell it.
Call the salvage yard and ask how much you can get for junking the car there. You'll be given cash depending on the weight of the steel, not the condition of the vehicle. For this reason, it's always a good idea to contact a cash auto salvage to compare prices before selling anywhere else.
The Environmental Impact
If you own a vehicle unable to drive or sell for someone to repair it, then there's a good chance it could end up in a landfill. You'll positively impact the environment by bringing your car to the salvage lot. Buyers can then visit the lot and purchase parts from the vehicle to use on their own.
Buying used parts from these lots also helps the environment. By doing so, you keep those parts and fluids they may contain out of the landfills as well. Buying and selling to these lots also helps reduce the amount of steel made each year.
It's a recycling process that benefits everyone.
The Community Support
When you choose to use an auto salvage yard, you also support the community. For starters, you're supporting local businesses, and you're also supporting job opportunities in the area. When you tie these two together, you're ultimately supporting the economy.
Rather than buying new parts from a big-chain auto part store, you can put your money back into the community by visiting a local auto salvage yard. If you're going to buy parts, then be sure to bring any spare parts you no longer need with you. The prices of the two might even cancel one another out!
The Variety of Parts
You never know what you might find when visiting a salvage lot. If there's something specific you need, then you can always contact the yard and ask them if they have that exact part. While there, feel free to browse around too.
Salvage yards offer a variety of parts from both domestic and foreign vehicles. You can also check online on their website to complete a search to see what vehicles and parts they have on the lot. If you need a part to a foreign vehicle and are having trouble finding it at other places, then the salvage lot might be the best place to look.
The Fun of It
Who would have thought that visiting the salvage yard was so much fun? Is there a way to have fun while searching through junked cars for parts? Of course there is!
Having the opportunity to rummage through a variety of vehicles and learn how they're made and put together is an experience like no other. You get to pack up your tools and hit the lot ready to open door frames, remove side mirrors, take apart parts under the hood, and much more!
Bring a friend with you or a family member with you and have fun looking through different vehicles and finding hidden treasures.
Visit an Auto Salvage Yard Before Choosing Another Option
Before you choose any other option for buying and selling, consider visiting an auto salvage yard first. You never know what amazing deals and unique parts you might find while rummaging through the lot. Don't forget to bring any spare parts no longer needed as well for cash on site!
For more post on our car blog, automotive resources, car repair manuals, and motorcycle repair manuals, be sure to check back here on a regular basis.
---