---
---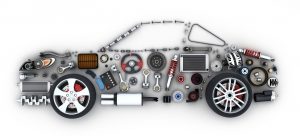 Part of mastering the art of auto repair is getting comfortable sourcing replacement parts for your car. As Americans keep their old cars longer, this is a skill more people need to learn.
One of the best places to purchase new parts–especially if you're a bit inexperienced–is your local dealership.
Here are our top 5 tips for ordering new vehicle parts directly from your dealer.
5 Tips for Ordering New Vehicle Parts from Your Dealership
1. Figure Out Exactly What You Need Beforehand
If you're a car repair neophyte, you might not know precisely what part you need for your car. It's not enough to know you need a new alternator. You need a specific part name–and the part number–if you want to be sure your part will work in your car.
2. Research Average Prices
Before you start calling your local dealerships, you need to know what a good deal looks like for your particular part.
You have a couple of options when it comes to price research, but you really should start out online.
Check out the big-name retail sites–think Amazon and eBay–to see what they might charge. Don't forget to include shipping and handling fees in your total.
You can also call around to a few local mechanic shops to check their prices. Don't be surprised if some shops won't give you a quote, though. Many mechanics depend on those surcharges and service fees and won't sell parts separately.
3. Take Convenience into Consideration
Sure, you may be able to source a particular part online for a fraction of the price your dealership charges. If it'll take two weeks to ship and you need it now, however, it's not such a great deal.
Remember to factor in convenience costs when you're comparing value. It might be worth it to pay a little extra if it means you can buy the part from a local shop close to your home.
Some dealerships even let you order online, too.
4. Take Advantage of Specialized Service
One of the best things about ordering new vehicle parts from a dealership is it cuts down on any guesswork. You know dealership parts will work with your care because they're made for your specific make and model.
If you drive a Mazda in the Edmonton area, for example, you know a dealership like Park Mazda will have the parts you're looking for.
5. If You Have Questions, Ask!
Your dealership can be a fount of knowledge for you. Most are happy to help their regular customers out, so don't be afraid to ask if you're unsure about a part. They may even have some advice on installation!
Learn More About Auto Repair from YouFixCars.com
The world of auto repair and maintenance can be a little overwhelming at first–but it doesn't have to be. At YouFixCars.com, we give our readers the info and resources they need to handle their repairs themselves.
You can find your repair manual, follow along with our helpful repair videos, and check out our blog for insider tips and expert advice. Start learning today.
---