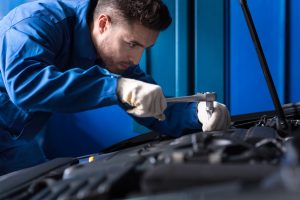 It's a great feeling when you accomplish those DIY repairs on your car you set out to do, but it's important to realize when you need a mechanic.
Bringing in a professional can save you a lot of time, and spare you more potential repairs that could be complex.
---
---
It's hard to find a great mechanic, but taking the time to do your research beforehand will pay off.
Here are five tips for finding the best mechanic.
1. Ask Family and Friends What Mechanic They Use
One of the best places to start when looking for a new mechanic is by asking family and friends who they go to.
This is a good way to find out who they trust, how good of a job they did, and what their price range looks like.
It's helpful to read reviews on the internet, but you're sure to get an honest review in person from someone you know.
Always look for a certified repair shop, such as the Honda Odyssey Repair shop, to know that you'll receive quality service.
2.  Take a Look at the Shop
If you've found out about a shop from family or friends, or have read reviews online, a next good step to take is to look at the shop yourself.
Drive by it, or even go inside and look around.  Talk to the mechanics, and even other customers.
Does the business look clean, well-kept, and legitimate?
Getting a sense of the workplace is one way for you to gauge how they do business and can be very valuable in your search for the best mechanic.
3. Interview the Mechanic
If you think you've found the place and mechanic you want to see, schedule a consultation with them and ask a lot of questions.
Interviewing your potential mechanic will help you get a better understanding of their personality, their work style, and what they consider to be their strengths when it comes to car repair.
What certifications do they have?  How long have they been a mechanic? Do they specialize in a certain make of car?
If you're on board and get along with them and the kind of work they do, then you might've found your new mechanic!
If you're unsure, restart the process with the steps above until you find the mechanic you're comfortable with, and someone you're confident could get the job done the right way.
4. Start with Small Repairs
When trying out your new mechanic, it's best to start with a small repair instead of something big.
This will let you see how they perform, and the quality of their work.
Building a relationship with your mechanic by starting with small repairs is a good way to ensure that you're able to work together and that you trust them with more complex repairs in the future.
5. Make sure you trust them
The trust factor is huge here.
You need to be able to leave your car with someone you trust, and who will be honest about their work and the cost of the repairs.
You need a mechanic who knows cars inside and out, is trustworthy, reliable, will listen to your concerns, and answer all of your questions.
If you find a mechanic with all of these qualities, you're in good shape!
Finding the best mechanic is worth it
If there aren't DIY repairs you can do with online car repair help, it might be time to bring in a mechanic.
The search for the best mechanic might seem daunting at first, but it's worth it.
You can't beat having a go-to person you trust for all of your car repair needs.
Remember: do your research, ask for referrals, check out the business, and interview your potential new mechanic.
You won't be sorry!
What other steps do you take when finding a new mechanic?
---