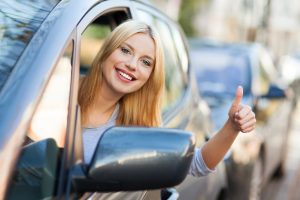 Summertime is here. And you know what that means – it's the season for road trips!
On average, Americans drive an impressive 657,000,000 miles between Memorial Day and Labor Day.
---
---
Are you among the 51% of families visiting a national park or the 40% visiting a fun-filled theme park? Wherever you're headed, there are a few things you need to do before you hit the road.
Read on for our summertime road trip checklist.
The Ultimate Road Trip Checklist
Let's divide this into two categories: Things to check on your car, and things to bring in your car.
Things to Check on Your Car
Air Pressure
Before any long-distance drive, it's vital to check the air pressure in your tires. Be sure to carry a tire gauge and check the pressure when the tires are cool.
Windshield Fluid
Top up your levels before you leave, and bring an extra gallon with you. If you're traveling somewhere with a lot of insects, choose a brand specifically formulated to remove bugs.
Battery
Nothing puts a damper on a road trip like a dead battery. Get yours checked at a free battery testing center before you get on the road.
Roadside Emergency Kit
If you don't have one, get one. If you haven't restocked yours in a while, now's the time to do so. Make sure you have essentials like bandages, ointments, and disinfectants.
Coolant Levels
As summertime temperatures sore, you need to be sure your family will stay cool. Top up your coolant levels and carry an extra gallon with you – just in case.
Brakes
Keep your family safe by ensuring your brakes (and all components) are in full working order.
Things to Bring in Your Car
Keep Things Cool
Window shades will ensure the interior of your car stays cool when parked in the summer heat.
It's a good idea to add a few gallons of water to your road trip checklist. You can always use water for coolant or drink it if you get stranded in a desolate area.
Family Necessities
Baby wipes can clean up spills, crumbs, and fingerprints. Bonus tip: They're also great for removing bird droppings and tree sap from your windshield.
You definitely need to bring your favorite snacks for the long drive. These can include dried fruit, nuts, crackers, or whatever else you like.
Don't forget your power adapters and fully charged battery packs. This will keep the kids' electronic gadgets charged and the parents happy.
Speaking of gadgets, music always makes a road trip go faster. Be sure to pack your favorite CDs or create a portable playlist before you head out.
Emergency Equipment
Foam tire sealant will be a life-saver if you experience a flat tire along the way. Also, wherever you go, don't forget the jumper cables.
A repair manual will help you prepare for the unexpected. You can also download an electronic version for easy reference.
Ready, Set, Go
Hopefully, after completing our road trip checklist, you and your vehicle are ready for the road.
What if you find an issue with your car that you need to address? Check out our list of handy blog posts for do-it-yourself auto repairs.
---