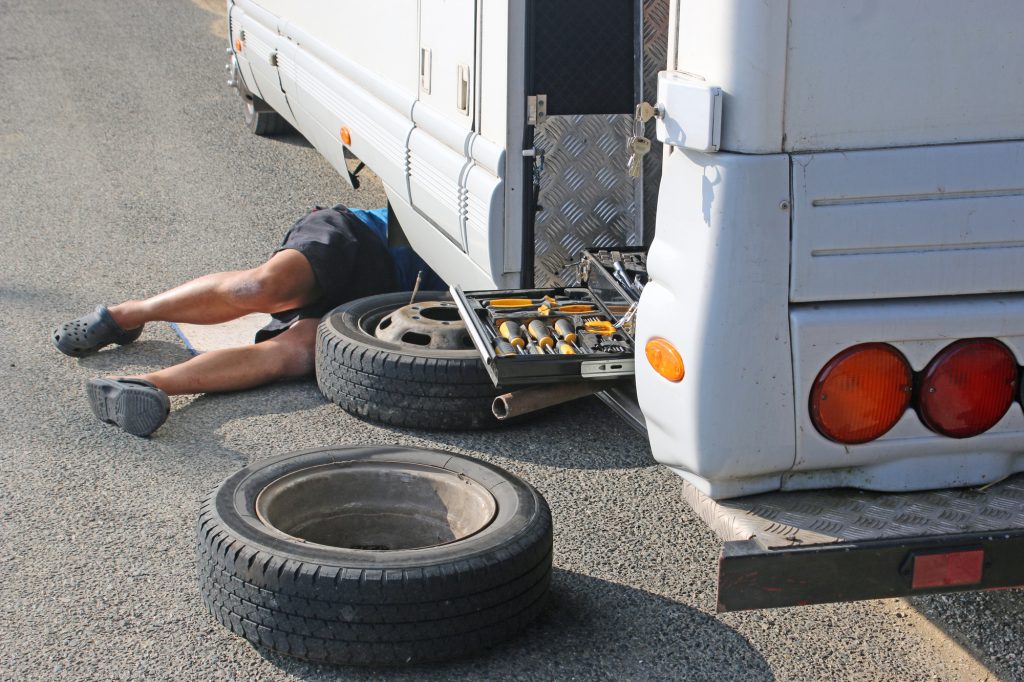 Owning your own recreational vehicle is like owning a key to the open road. Your imagination is the only limit to its potential freedoms. So, when your RV breaks down, it can feel like being tethered to boredom, and there's no escape.
If you're the type that loves going and adventure, fixing your home-on-wheels is probably your top priority. But getting it fixed has its difficulties, primarily in finding the best RV repair shop. These are the things that you should consider when looking around your town for reputable mechanics.
---
---
Consider Your Budget
The first thing you should always do when you're about to make a purchase is to consider your budget. Even though your RV is your escape from everyday life, debt is a boulder that'll sink you further than being without.
There's no reason to put yourself – and your family – in financial jeopardy if you can't make the repairs right now. If it's not within your means today, it may be within your budget in the future.
What you should do is set aside a small portion of your paycheck that you intended to use on luxuries and non-essentials. You shouldn't reallocate budget spending for necessities, like food and shelter. But you can forgo a trip to your favorite restaurant for a few weekends.
Depending on what needs to be done can come at variable costs. It's recommended to look for repair shops around you, in a reasonable radial distance, and get quotes from each. The differences in prices might surprise you, and the money you save during the hunt is worth it.
Sometimes, the costs might be too much to sensibly repair the vehicle. Consider selling it and investigating pre-owned RVs.
When you find an appropriate price in your range, start saving up. You'll be back on the road in no time!
Make Sure They're Reputable
A lot of shops have may have a bad name for themselves. It's important to go to a mechanic that's trustworthy and good to his word.
If you're not familiar with the mechanic, you should do some research on their reputation.
The first place you should go to is the internet. Search the name of their shop. By chance that there aren't any reviews, you might want to continue your pursuit for a new garage.
Often times, a mechanic with no online presence isn't reputable. They might be new to the area, but it's more than likely that they're intentionally keeping reviews from being spread. It's better safe than sorry, even if the mechanic is actually responsible.
Use trusted sources for your reviews, like Yelp and Google Reviews. Don't trust a mechanic's website's reviews, they're loaded with false positives. Crowdsourcing opinions of past customers is far more reliable than ones planted by the repair shop itself.
You should also take your friend's or neighbor's word with a grain of salt. You might fully trust either one, but it doesn't mean their opinions are valid. You have to do your own research; don't rely on "my guy's the best, he'll treat you right."
A lot can be found on the Better Business Bureau, too. You can search for the name of a business directly on their website.
If all else fails, go scope out the place yourself. Talk to some of the mechanics there and see for yourself. You're a better judge of character than you think.
Check the Warranty at an RV Repair Shop
One of the biggest marks of reliability of repair shops is if they offer some sort of guarantee. This guarantee can come in the form of a warranty or some other contractual agreement that ensures functionality.
Businesses that offer warranties, especially mechanics, have a level of faith in their own product that words can't uphold. A business – small businesses mostly – can't afford to do offer free labor in the case of a faulty repair job. They'll do their absolute best, guaranteed, if there's a warranty clause at stake.
It's important, as a consumer, to read these warranties with diligence, however. Even though these contracts are a sign of good faith, it doesn't mean there aren't swindlers in the world.
Some warranties have fine-print that make the warranty almost useless. When shopping around, it's up to you to make sure you're getting the best deal possible. Don't fall victim to any anti-consumer tactics or schemes.
How Convenient Is It For You?
It's also crucial to weigh the convenience of getting your RV repaired. It costs a lot of time to get substantial repairs done.
It's not recommended to go too far for your repairs. Going out of the way for a shop, in general, won't do you any good. And if you're asking for rides to and from the garage, it might inconvenience your friends or family members.
Also, be upfront with the crew at the repair shop. Ask them how long the repairs will take, and they'll genuinely give you their best estimate.
If it's an absurd amount of time, they might be busy, or they might be giving you the runaround. Take your business elsewhere. Your time is too valuable for them to waste.
Remember, you're the customer. Don't let a business inconvenience you.
Hitting the Open Road Once Again!
Getting your recreational vehicle back on the asphalt is likely the only thing on your mind. But finding the right RV repair shop could be preventing that.
When getting your vehicle repaired, you should first consider your finances – taking the heartache of debt with you on the open road will sour your time. Make sure the garage is reputable through good reviews; those that offer warranties are usually trustworthy. Also, weigh the convenience of getting it fixed at the shop, make sure it fits your schedule – not theirs.
Interested in vacationing by RV? Check out our other articles on pursuing your dream of living on the road.
---