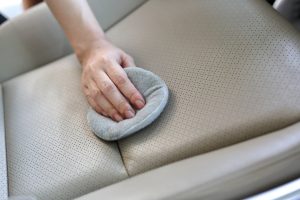 How you take care of your car is indicative of how you feel about yourself. That's why it's important to keep your car's interior clean and neat. But life happens, and rips, tears, and stains are almost inevitable.
Maintaining the integrity of your car's interior is important not only for aesthetic reasons but also in the event you decide to sell your vehicle
---
---
Unfortunately, professional car upholstery repair can be expensive, costing anywhere between $250 to $600 dollars and up. The good news is that there are plenty of things you can fix yourself.
It's no need to throw the whole car away or spend thousands of dollars reupholstering its interior. In just four easy steps, you can do the repair yourself and have your car looking brand new.
1. Determine the Damage
The type of material your interior is made from will determine if you can repair the upholstery yourself. Additionally, you're more likely to be able to repair a small tear or hole rather than massive door to door damage.
Another factor to consider when assessing the damage is whether or not you plan to keep or sell the car.
If you want to sell it, consider getting it professionally fixed so you can get the most bang for your buck.
2. Try a Simple Fix First
Sometimes, what your car needs is not a total car upholstery repair, but just a little TLC. This is especially true for those with leather seats.
A good leather repair kit will address any damages and prevent future issues. Check your car's repair manual to determine what you need.
For cloth seats, you can try to stitch tears and holes shut by matching the thread to the color of your car's interior. When you've stitched the damage shut, use a fabric sealant to ensure that the sides won't fray.
3. Buff It Out
While leather looks amazing, it's susceptible to wear and tear earlier on than its cloth interior counterpart. Using a high-quality leather conditioner and gentle cloth can help buff out any scratches.
More serious issues, such as holes or tears, may require a professional fix.
4. Glue It Back Together
Whether you have leather or cloth seats, you can simply glue together small holes and tears. Simply find a patch that matches the fabric and color of your interior, and place glue on half of the patch.
Next, slide the patch through the hole or tear. Pull down on the other side of the hole so that the sides are now touching, and press down on the patch.
The glue is quick drying, so the process should only take a few minutes.
Get Expert Help for Car Upholstery Repair
Car upholstery repair is quite simple when you have the right tools alongside these four tips.
---