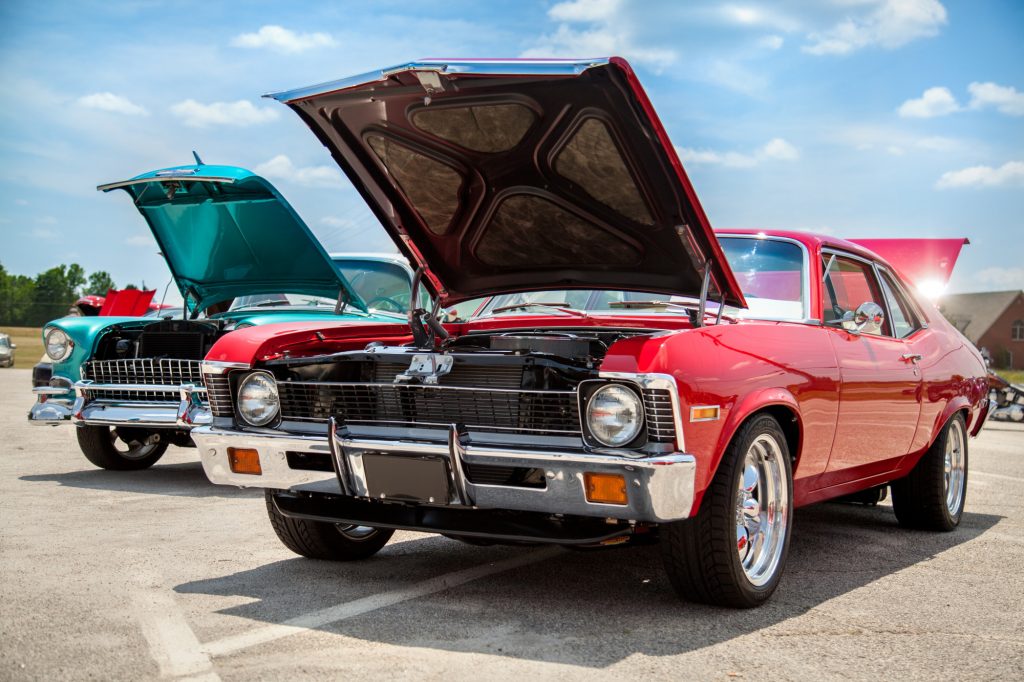 Have you ever dreamt about driving in a classic car? Or maybe you want to add one to your collection? Perhaps your dream project is to restore a great classic car to sell!
Classic cars have an allure that any car aficionado can appreciate. They have a timelessness and an appeal that many modern cars simply don't match.
---
---
America is not without its share of great classic cars. They're one of the richest parts of our culture. Many films have featured American classic cars as if they were characters!
But what are the most popular classic cars? Which are the best classic cars worth your time, whether you wish to collect, drive, or restore?
Here's what you should check out:
1977 Pontiac Firebird
We told you classic cars were characters in great films! One of the best muscle cars is the 1977 Pontiac Firebird which was immortalized in the film Smokey and the Bandit. 
If you are into speed, this should be the car to add to your collection. The older generations will wonder if it's the Bandit behind the wheel! Younger generations will also look in awe as you drive by.
Muscle cars are a unique car that married speed, performance, and aesthetics together.  Among classic cars, the 1977 Pontiac Firebird is the prime example of a great muscle car. As a result, you can still find many replicas today that are ready to purchase.
Ford Bronco
If you're into trucks, there's nothing better than getting into a classic Ford Bronco. For many years these were a staple in many American households.
With the Ford Bronco, you have many options available from 1969 releases to 1996 releases. While the Bronco isn't as popular today, this makes it all the more reason to revive the classic.
As they aren't as popular, this is a great opportunity for a restoration project. There are still many dealerships that sell Ford Bronco interior parts and other parts for restoration.
If you want to gift a classic car to someone, the Ford Bronco is a great choice. It's convenient, functional, and has the aesthetic beauty we love about classic cars.
Ford Mustang Boss 429
You can't go wrong with any model of Ford Mustang, but the Boss 429 (1969 or 1970) remains the classic model.
This is one of the most recognizable classic cars and muscle cars. It's a symbol of rebellion. This is the car that gets shown in movies when the hero chases after villains!
While we don't want you to chase after anyone, this is a great car for a younger person who enjoys speed.
While the Mustang always releases new models, the Boss 429 remains popular on the market. Whether you want to drive or collect, this is a great addition to your garage.
1968 Dodge Charger R/T
If Mustang isn't for you, then the 1968 Dodge Charger R/T is another great choice. This isn't for collecting or restoring, it's solely for driving and doing a bit of showing off!
In recent times, this muscle car became popular through the Fast and Furious film franchise.
If you're looking to drive around a racetrack or on an open road this is the car for you.
The uniqueness of the Dodge Charger is that it doesn't have the luxurious look.
It looks like an ordinary car and that's what adds to its appeal. While racing is the main appeal of this car, you can also use it as your everyday vehicle.
Ford F-Series (1948-1952)
Let's take a break from muscle cars and return to trucks. Do you recall watching old Hollywood films or early TV shows? Remember seeing farmers in those cute pickup trucks? That was the Ford F-Series you were watching.
If you live in a rural area you'll love this classic car for its function. It can seat up to 3 people (including the driver).
It also has a lot of space in the back for your goods, luggage, or additional passengers.
While this might not be high on most classic car enthusiast's lists, this is a great functional vehicle if you prefer vintage cars.
If you need a pickup truck and aren't satisfied with new pickups, you'll love the Ford F-Series (1948-1952).
Mercedes-Benz 230SL
Let's now look at a classic luxury car. Mercedes-Benz has been the pioneer of luxury vehicles for the average person. Drive around in a Mercedes-Benz today and you'll be sure to turn heads.
The same goes if you drive in a classic Mercedes-Benz sedan. Our favorite is the 230SL from 1963-1971.
This is a great two-seater sedan that has a wide hood. This style has gone away from many modern sedans. As such, it's a novelty to drive around in a classic 230SL.
The 230SL also has a large logo on the grill. This might be pompous but we love it!
This is a great classic car for driving around if you're an older professional. If you're a retiree, this is also a great option.
Ferrari Testarossa
Okay, now let's really go up the ladder of luxury! While this car isn't as old as some of the others, it still deserves a place among the most popular classic cars.
Take one look at a Ferrari Testarossa from 1985-1996 and you'll get reminded of shows like Miami Vice. If you enjoy racing and luxury vehicles, you'll want to add this car to your collection. Newer Ferrari models have an appeal, but nothing will turn heads more than this classic.
Owning a modern Ferrari helps you join an exclusive club. But owning a classic Ferrari makes you part of an even more exclusive club.
These are rare and aren't manufactured anymore. This makes them even more appealing to the avid classic car collector.
These Are the Most Popular Classic Cars
Now that you know the most popular classic cars, which ones appeal to you the most? America's streets have been home to a unique blend of cars that have since become classic.
Whether its muscle cars, everyday vehicles, trucks, or luxury cars there's something on this list for everyone. This year, take the time to find your dream luxury car and add it to your collection!
Please share this article with your fellow car enthusiasts! There's more great car content here on our website.
---