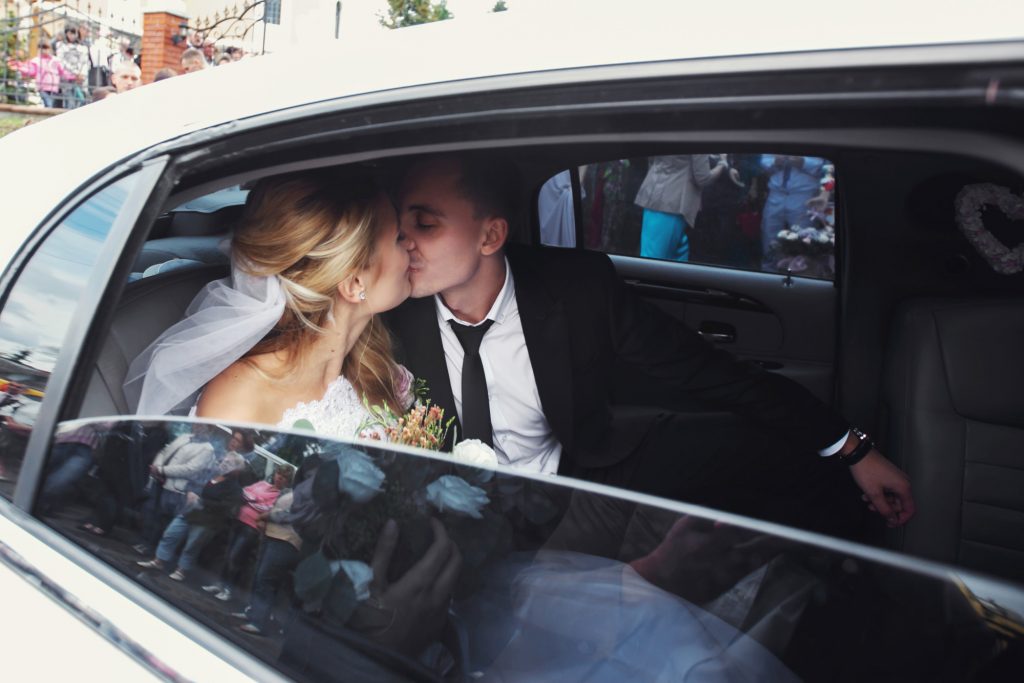 Your partner of three years now has finally popped the question and now you're tasked with planning the big day with your maid of honor. You start making out a list of all the essentials, dresses, cake, food, and transportation. Is transportation really necessary?
You could take your car and drive yourself to the venue but where is the fun in that? You deserve to arrive and leave your wedding in style. If you aren't careful you could be stuck without a ride at all though.
---
---
Many hang-ups can happen when it comes to transportation for weddings. Keep reading for a complete guide on booking your ride so you don't leave your partner hanging at the alter on accident.
1. When Should You Book Your Transportation?
You don't have to think about your transportation as soon as your partner proposes like in the example above. Still, you do want to book well in advance or there will be no wedding limo available for you.
The basic rule of thumb is to start calling around 6 months before your wedding. Keep in mind that if you're marrying around prom season you should book even earlier than that.
2. Who Are You Transporting?
Are you providing transportation for only yourself or will some of your guests get the special VIP treatment as well? In many cases, couples will provide a ride for themselves and close relatives. Keep distance, location, and your guest's special needs in mind when you're making your decision.
Distance
If your venue is within five minutes of your reception area then it will be a little extra to book transportation for everyone. If the two locations are an hour away from each other though, you should consider it.
You don't want to inconvenience your guests with high Uber prices, or long drives. An hour eats up a lot of gas money!
Location
If you have relatives that need to be flown in chances are they are going to need transportation from the airport. If you can't arrange something at least give them a little bit of help in their wedding invite. Provide the names of public transportation options in the area and perhaps include a map if they are unfamiliar to the area.
Special Needs
A lot of your guests will probably be comfortable with driving. This doesn't mean all of your guests will be though. Chances are your 80-year-old great-grandma is going to have problems getting into a vehicle let alone drive it.
Consider providing some type of transportation for these guests or you may end up having your wedding without them and you don't want that.
3. How Is Everyone Getting to and From
There are a few main routes that you need to consider when you're booking your transportation. There is the ride to the ceremony, the ride to the reception, and the post-wedding ride.
Riding to the Ceremony
It's traditional for the bride and groom to travel separately from each other so you'll need to figure out how both of you are going to get to the venue. If each of you rent a limo they can fit up to ten people give or take so you can bring along some of the wedding guests.
For example, the bride could travel with her bridesmaids and the groom with this groomsmen.
Getting to the Reception
After the ceremony is over you and your groom will duck into a private car and ride to the reception. You need to figure out how everyone else is getting there. Chances are if guests rode with you to the ceremony they will need to ride with you a second time to get to the reception.
If you have it in your budget you can have these people travel by limo again and get a separate car for yourself and your new spouse. If the budget doesn't allow, you can see about public transportation in the area.
Post-Wedding Ride
Once the reception has died down, you and your partner will ride off into the sunset in some type of vehicle. This post-wedding ride is how your guests will remember you as a couple so it needs to fit your personalities and your budget.
4. At What Cost?
Getting wedding transportation isn't the cheapest part of the wedding but it's not as expensive as some of the other aspects like the venue or even the wedding dress. There are plenty of ways to make it more affordable.
Call around to different companies to find out who is going to give you the best deal. Some companies will throw in free promotions as part of a wedding package. Remember that getting a quote doesn't lock you into anything.
Most rental car companies charge you by the hour but they will let you decide how you spend those hours. Your ceremony won't last long but your reception will. It's smart to have them wait out the ceremony, drop people off at the reception, and then duck out until the reception is over.
5. Questions to Ask When Booking
There are a few questions that you want to ask before you go signing any contracts. Asking them makes it less likely that you'll get hit with some sort of hidden charge later. These questions are
Are package deals cheaper?
How old are the limos?
What will happen if we cancel?
Are there any extras that are being included with the base price?
Each company will have different quotes and packages. Again, it's important that you call around to several different places in order to get the best one.
Find Trustworthy Transportation for Weddings
While your transportation isn't as much of a pressing matter as your venue or dress, it's still something that you need to consider at least six months before your wedding. Use the tips that you've read here to find trustworthy and affordable transportation for weddings. Arrive at your big day in style.
Did these tips help you book a limo for your wedding? Keep tabs on our blog for more articles like this one.
---