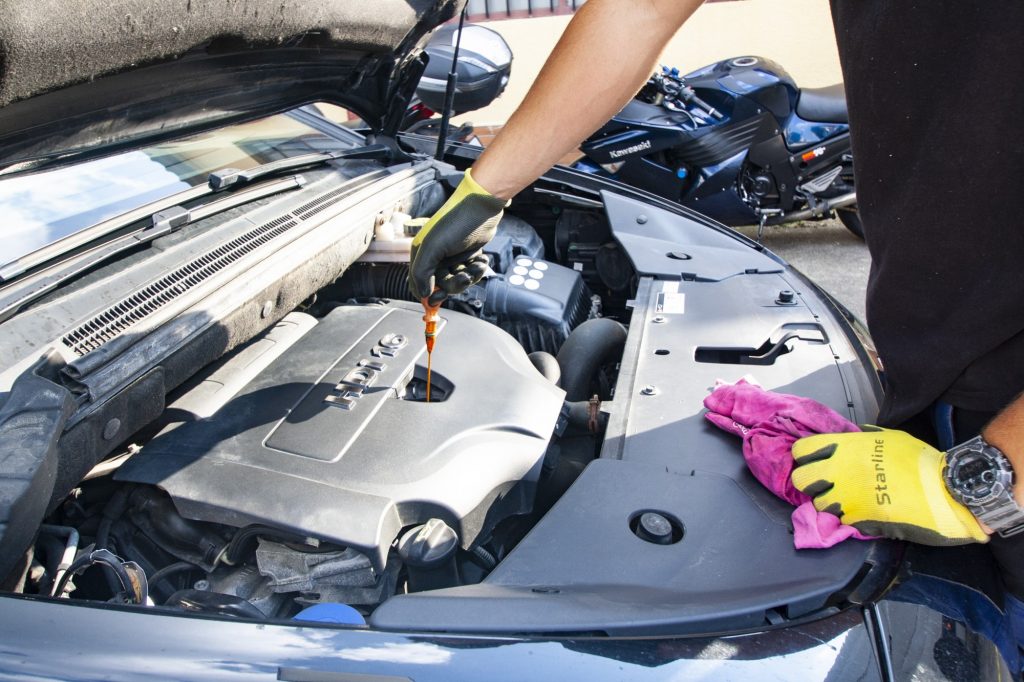 It's that time again. You have driven over 3,000 miles since your last oil change, and it's time to change the oil again. This time, instead of taking your car up to the shop, what about changing your car's engine oil by yourself?
Doing auto repairs and maintenance DIY style is a great way to save money for most car owners. According to a recent survey, 62% of car owners claim that they save at least $500 a year by making little car repairs themselves!
---
---
We have gone over all the auto stats to find out which cars are the easiest cars to work on. Keep reading to learn which models made our list and some tips about repairing your own car.
5 Easiest Cars to Work on for People Who Aren't Mechanics
Most people have had no formal training to repair or maintain a car, so DIY auto maintenance is very intimidating to some car owners. These are some of the easiest cars to repair, even if you don't know anything about what's under the hood!
1. Honda Civic (Years 2001 to 2016)
These Japanese cars have long kept a fan following because of their easy customization and simple maintenance. It's no wonder why this is one of the most popular cars out there!
Replacement parts for Honda Civic won't break the bank and nothing is out of reach under the hood. This is a front-wheel-drive and front end engine bay kind of car, so everything is right up front for you.
2. Subaru Outback (Years 2010 to 2014)
The Subaru Outback is one of the only SUV's rated well enough to make our list!  Be sure you are looking at the 2010 to 2014 models because newer ones have had head gasket issues.
If you have one of the 2010 to 2014 models though, this car is a breeze to maintain because everything is easy to reach! The only drawback is that the sparkplugs take a little bit longer to replace than other comparable vehicles.
3. Toyota Corolla (Years 1998 to 2017)
The textbook definition of "reliable car" is the Toyota Corolla! This car won't break down on you often, but if it does, it's a breeze to do the repairs!
Because this car is so popular worldwide, there are plenty of replacement parts available and at a great price! So, it won't cost you an arm and a leg to get the parts you need.
Another claim to fame for the Corolla is that the 1998 to 2017 models use a timing chain instead of a timing belt, which last longer and needs less maintenance!
4. Chevrolet Silverado (Years 2007 to 2013)
This truck is always a professional mechanic favorite to work on because of the amount of space under the hood, making it comfortable to work on for longer periods. There are 2 engine sizes (V6 and V8), but both provide ample room for working under the hood.
On top of the elbow room, this truck's engineers did a wonderful job. The parts that need the most attention lie near the outside of the engine block so they are the easiest to access.
5. Ford Crown Victoria (Years 2008 to 2011)
No, this car is not in production anymore, but many mechanics wish it were! These cars withstand the test of time though, so you still have good chances of finding one in decent condition.
Crown Victorias have rear-wheel drive, meaning the engine bay has more room to maneuver your hands when the car needs repairs.
Another benefit of the Crown Victoria is that they placed the transmission in a more convenient location than some of the newer cars. That means maintaining or replacing a transmission did not mean disassembling half of the suspension first!
DIY Car Repair Resources
Don't feel like you have to trade in your car for one of these models so you can start doing your own repairs! Most people can do easy car repairs and maintenance by themselves.
Before you attempt a repair, research how to do the specific repair on your car model. Try looking up a Youtube video about it for visual references and be sure to grab an auto manual for your make, model, and year of car. Look for a reputable car manual company like All Service Repair Manuals to be sure the information in your manual is extensive.
If you get stuck on something, try asking someone at your local parts shop. They know a ton about repairing cars and may have advice or a tool to help you finish your repairs!
If You Don't Mind Putting in the Elbow Grease, Do It Yourself
Car owners who do their own repairs often feel more of an emotional connection to their car and they feel exhilarated when they complete each repair. If you don't mind putting in a little hard work, the money you will save and the pride you will feel are well worth the elbow grease.
But, even if you have one of the easiest cars to work on, you may not have the strength to pull out an engine or even to unscrew a particular bolt. It's also important to know which repairs you can do and when to take your car to the mechanic's shop. If you have doubts that your physical ability will hinder you, do not attempt that repair!
We hope you enjoyed reading this article and that you learned a thing or two about repairing cars DIY style. If you need more advice or information about auto repairs, check out the rest of our blogs today!
---