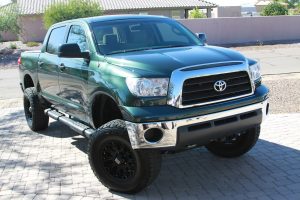 How does saving up to $30,000 (or even more) sound to you?
---
---
Really good, right?
The good news is, it's totally doable – starting with your truck!
If you can make your ride last for up to 200,000 miles, then you're looking at this kind of savings. What's more, you can contribute to the green revolution, since sticking with the same vehicle means one less machine that goes to the junk pile.
But how exactly can you keep driving your truck in order to reach this milestone?
We'll show you the way, don't worry.
Today we present this ultimate truck maintenance checklist. Keep reading so you'll know what to do to extend the life of your prized possession!
The Truck Maintenance Checklist to Ensure Top Performance and Safety of Your Ride
Even if you don't intend to keep the same truck for many years, you at least want to ensure it's always at its peak performance. After all, you don't want to find yourself stuck in the middle of nowhere, like the 32 million motorists the American Automobile Association rescued back in 2015.
As a trucker, whether by job description or as an adventurer/hobbyist, a truck break-down on a deserted (or less-traveled) highway is more likely to happen to you. Nothing can take the joy out of road trips faster than this.
There's also the matter of your safety.
Say you're on a busy road and your engine suddenly sputters or your malfunctioning steering wheel veers off in the wrong direction. You can end up involved, or worse, causing a road accident!
This is entirely possible, and the statistics – that 2.35 million people in the U.S. get injured on the road – proves it all.
All these said, you'd want to get on top of your truck maintenance ASAP. Even if you have plans of changing trucks within several years. More especially though if you are about to take it out for a long drive.
Let's begin ticking off the pointers in this checklist then!
1. Use the Manufacturer's Recommended Maintenance Schedule as a Guideline
If you've got a Toyota, great! Because when it comes to vehicle brands that can withstand the test of time (plus dirt, salt road, and serious trucking activities), this Japanese brand leads the pack.
A Toyota will cover, on average, over 200,000 miles in its lifetime. The same goes for Honda, Ford, Dodge, and Chevy.
But truckers can only get the most out of these machines when they religiously stick with the recommended service schedule.
Note that each automobile manufacturer has their own maintenance schedule recommendations, each of which you'll find in their respective manual. Follow the recommendations there at the very least. But you need to adjust – increase, in other words – based on the following factors:
How often you drive
How many miles you drive
Conditions of the road you usually drive on
Weather conditions of your location
If you bought the truck brand new or used
Age of your ride
If you put on more miles in your truck than the average motorist, then you'd want to bring your car for maintenance more often. The same goes true for older trucks, since many of these don't come with today's technology designed for better performance (think driving modes and active exhaust valves). There's also the possibility that the previous owner of your used truck maltreated it.
Simply put, shorten the time in between maintenance schedules if you use your truck more than the average driver!
2. Keep a Close Look at Your Tires
Just like how you'd maintain your van tires so it can safely bring you and the family from point A to point B (and back), the same goes true for truck tires that you put under more rigorous stress.
Remember when you were out scoping your truck? One of the first things you checked were the tires. Now that you own the beauty, you want to make sure they maintain correct pressure and inflation.
This doesn't just prevent uneven tire wear and tear. It can also save you gas money!
For the simple reason that underinflation (as well as overinflation) considerably reduces tire performance. Lower pressure allows tires to bend more as they roll. The longer you keep this up, the greater internal heat that builds up.
This then results in higher rolling resistance. Ultimately, it'll bring down your truck's fuel economy.
In fact, underinflation reduces gas mileage so much it costs an unnecessary gas consumption of over 1.25 billion gallons every year.
Keeping your tires in optimal condition is a step closer to that $30,000 savings. More than that though, it keeps you safe and secure on the road. Keep this in mind: more than 11,000 road crashes happen every year involving tire problems.
3. Invest in Anti-Corrosion Products
Although your top priority is to keep your truck's great performance and extend its life, you shouldn't forget about its appearance. You want it to look as good as it drives great.
That said, you should consider investing in products designed to help prevent premature corrosion of your truck's exterior and bed. A perfect example of this is spray liner.
Aside from shielding your truck's inner-side, this can also provide an anti-skid surface. This means you can worry less about your stuff and equipment sliding right and left or even going overboard as you pass by rough roads. Be sure to find out more about the best spray liners used by smart and savvy truckers, and pick one that's right for you.
Start Your Comprehensive Truck Maintenance Now
Regardless of how new or old your truck is, it's still a machine, and all machine needs regular greasing.
By following the tips from in this truck maintenance checklist, you can worry less about unwanted delays on the road. There's also the possibility of that $30,000 worth of savings.
So, as early as today, implement as many of these tips – starting with what's under the hood and your tires. Also, if you want more car improvement and maintenance tips, feel free to check our blog out!
---