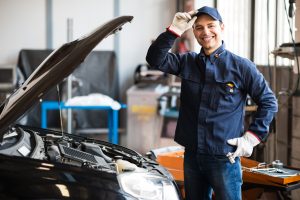 There is always going to be a need for mechanics. In fact, according to the U.S. Bureau of Labor Statistics, there are about 763,700 mechanics in the U.S. today. And as you read this, many more young adults are studying to become one.
By 2018, the number of mechanics is expected to grow by 5 percent so more people are wondering how to open a mechanic shop. However, only a few know how to do it fast and correctly.
---
---
How to Open a Mechanic Shop on a Budget
Are you one of the many who owns a garage? If the answer is yes, great! Let us tell you that you are actually thinking about your new mechanic shop right now.
However, just because you know how to fix cars or test oil pressure doesn't mean that you are a natural at running a business. Luckily, we are here to help!
Keep reading and you will find the top 4 key factors to lead you to success.
Of course, since this is a story on how to open a mechanic shop and not on how to become a mechanic, we are going to assume you already have an ASE certification.
If you don't, go get one and get back here as soon as possible!
1. Get the Paperwork Done
Creating a business comes with responsibilities and opening your doors is just not enough. Make sure you contact authorities like your secretary of state's office and get your license.
Also, head over to the Internal Revenue Service (IRS) website to get your EIN (Employer Identification Number) and have your papers somewhere easy to find — you never know when someone might ask for them.
We would recommend a business plan. as well. First, it will help you figure out how you will conduct your business. And second, it will be your point of reference in case you want to submit it to a potential lender or investor.
2. Financing
Getting some help from a local lender is not that difficult. Managing your money is, though. Invest just enough to get your business up and running until revenue begins coming in. But don't be a spendthrift — at least not right from the start — and make slow steps.
To get your equipment and start with the basics, at least, get in touch with a mobile tool dealer. Get the best deal and create a network of trusted associates. Also, you can always join a trade association — you will be surprised by the number of people that might be willing to help you.
Whatever you do, start small. You can always expand later.
3. Look Professional
We don't want to ruin the romance here, but you have to be honest with yourself. It is a garage that you want to turn into a mechanic shop, after all.
Invest in your business in terms of appearance and facilities. Give your garage the look and the feel of an actual mechanic shop. Your clients are going to trust you even more and realize that you are serious about your business.
You don't need to spend much. Some paint, a basic waiting room area, a brand new garage door from A-1 Door Company, and a great sign. That would be a great start!
4. Marketing
Everyone markets their products or services. You have to think differently, though. Don't be just another mechanic shop in the neighborhood. To be honest, promoting the fact that your shop used to be a garage, might be a great idea.
People will become curious, they will most likely visit your shop and, at this point, all you will need to turn them into regular clients is a great service. Just stick out and be the cool mechanic in the town.
So, now you know what to do! But do you have all the knowledge required? Make sure you keep up with our blog, a great car resource.
---