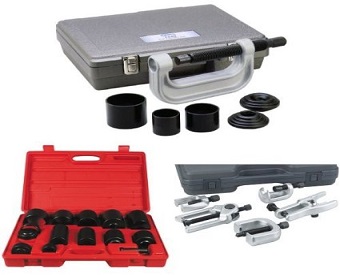 There is no substitute for front end tools. When it comes to special tools or equipment designed to service front suspensions and steering on automobiles they can be hard to find locally. In some cases these tools may be required to get the job done properly.
Not only can they save time on the given repair procedure, but they can also prevent damage to connecting parts as well as lubrication boots and seals. As a professional auto repair mechanic my toolbox is filled with most of the individual tools listed on this page.
---
---
Often I made the mistake in purchasing these individual front end special tools separately when I needed them to complete a specific repair. Buying the tools in a set is often the most cost-effective way to purchase them.
So even if you do not need a particular tool at the moment it may be the best practice to purchase a complete auto repair set. You never know when the use of these specialized tools may be helpful down the road.
When this situation comes up, having the right tool for the job is priceless. Above and below I have listed some of the most widely used car repairs equipment for servicing front ends on both automobiles and trucks.
Even though these tools are not used as often as sockets and screwdrivers there may come a point that they are absolutely required to perform an individual repair. It is hard if not impossible to find a professional mechanic that does not have all of the above stuff in their personal toolbox.
Books Explaining Front End Repair
Completely understanding a specific system before you begin repairing it is extremely important. When you're dealing with something as safety-related as steering and suspension components this becomes even more important. These components connect the steering wheel with the tires and the road. The front end of the vehicle and the braking system of the automobile are considered the two most important to driver safety.
Handy Tools for Suspension Repairs
Listed below are a few common and not so common tools used in service and maintenance of steering and front suspension components. These are some things I have in my toolbox and they have come in handy more than once. You may consider adding these items to your collection. In some cases there is no substitute for the special tools required for front and related components.
Bookmark this special front end tools page or share with friends. Come back to see updated tools and equipment when it becomes available.
This next link will take you back to my auto repair tools section and has a few more front end tools listed. You'll also find a nice selection of car code readers and a few surprises you wouldn't expect to see available through a book retailer.
The homepage is up next and supplies a good run down of what other types of information is available on this site. Also find out how to get answers to individual car repair questions.
---