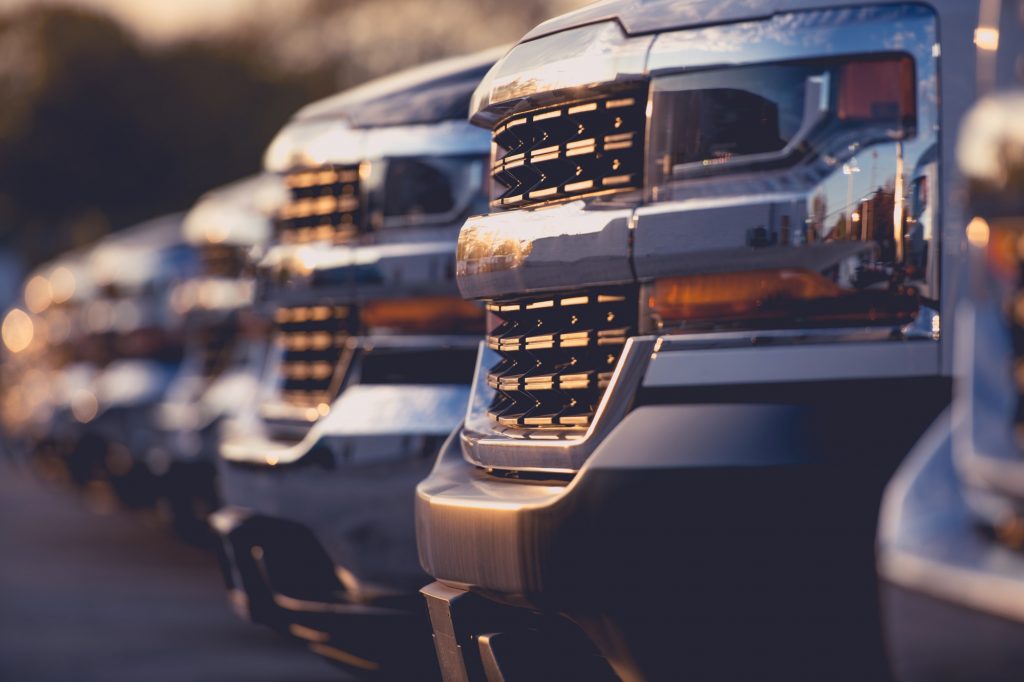 Where did all the drivers go?
The total miles driven by Americans dropped over 40% in late March, thanks to COVID. Thankfully, driving is finally starting to make a comeback, as we strive to return to a new sense of normal.
---
---
If you want to start enjoying the open road again, why not do it in a pickup truck? On top of offering a variety of recreational features, pickups are also the perfect work vehicle option. However, choosing the right truck can be a lot trickier than you might think.
In the battle between Ford vs Chevy vs Dodge, it's easy for consumers to be confused about what ride's right for them. To help you out, we've created this short guide to review the pros and cons of each brand.
What pick up truck brand is right for you? Read on to find out!
Should You Buy a Used Ford Truck?
Let's start by reviewing what Ford pickup trucks have to offer drivers. Ford F150s are incredibly popular, and for good reason too. For starters, you can completely customize your ride by building your F150. However, if you want to save a ton of money, we suggest you buy a used F150. 
On top of saving money, you might be able to get a break on your insurance rates. Used pickup truck models have a lower market value, allowing insurance providers to cover them at a lower rate. 
Why not buy a used car, why buy a truck?  Ford F150s are built to last. As long as the previous owner maintained the vehicle, and you get an inspection, you can rest assured you're buying a reliable ride.
Ford Features You'll Enjoy
When you're shopping for F150's, you'll notice they have a variety of engine sizes. First, there's the basic engine size starting at 290 horsepower. Need more juice? Then go to the extreme with the Raptor's 450 horsepower engine!
You'll also be able to choose between trucks that have either a basic engine with a 6-speed transmission or an upgraded engine with a 10-speed transmission. Whichever you choose, all of Ford's engines are automatic, to make life easier for you.
Payload Capacity
As far as payload capacity is concerned, Ford trucks are famous for being able to carry at least 1,000 pounds of weight. However, there are some F150 models capable of handling 2,000 pounds, or more.
F150 Cab Sizes
Do you want a work truck or a family vehicle? Of course, you could always go for a bit of both! Ford F150 cab sizes range from a small 3 passengers up to 6.
Downside of Owning a Ford
Now, to get into the cons of owning a Ford F150. If your main goal's to buy a fuel-efficient vehicle, then watch out. Pickup trucks aren't generally known for their fuel efficiency. While Ford's more efficient than a lot of other trucks, it's not going to save you money on gas when compared to a smaller vehicle.
Lastly, if you decide to buy a new F-150, you have to be careful with your customizations. Adding on things like trim can raise your price point significantly.
What Dodge Ram Trucks Offer
Moving on, let's look at what Dodge trucks bring to the table. To begin with, Ram trucks are incredibly reliable. Whether you're using your vehicle for off-roading, or to get to the worksite, your Ram will be up for the task.
One of the reasons Ram trucks are so sturdy has to do with their frame. The truck's frame is made of high-strength steel and lightweight aluminum. As a result, Ram trucks have impressive capabilities, and performance ratings, without being heavy.
Towing Features
The model and trim you choose will determine the towing abilities of your Ram. For instance, the new 2021 Ram 1500 can tow 12,750 pounds. Whereas the 2021 Ram 2500 can tow 19,680 pounds! Still not enough? Then splurge for the 2021 Ram 3500 that can tow up to 37,199 pounds.
Dodge Ram Cab Sizes
In the past, consumers complained that Ram cabs were uncomfortable. Now the 2020 Ram 1500 is switching things up, by wowing customers with a cabin experience that's comfortable and quiet.
For starters, the 2020 Ram sits up to 5 people, with the head and legroom of a full-sized sedan. Second, the noise cancellation keeps the interior of the cabin nice and quiet. The 2020 Ram also has a frame-mounted sensor and noise filter.
High Tech Tailgate
One of the most popular features Ram trucks offer has to be their multifunctional tailgate. The upgraded tailgate offers 4 different ways of splitting up the truck's bed space. The tailgate also can lower itself, and swing open separately.
Becoming a Chevy Owner
Last but not least, let's get into the features Chevy trucks have to offer. In the battle of Ford vs Chevy, it's important to note that the engines of full-sized Chevy pickup trucks, don't pack quite as much of a punch as the F150's do.
However, Chevy engines are still very powerful and offer improved fuel economy. There are currently 5 engine options you'll have to choose from, ranging from 285 horsepower and topping out at 420 horsepower. The Silverado 1500 also features a turbocharged diesel engine option.
Towing Capacity
The latest Chevy Silverado can tow up to 12,000 pounds. We suggest you add in the advanced trailering tech. The technology allows you to monitor the trailer's tire pressure, while also delivering theft notifications.
Chevy Silverado Cab Sizes
You'll be happy to know that the cab sizes of Chevy Silverados are large and roomy. You and your passengers will enjoy a well-balanced ride, in a truck that knows how to handle itself.
Choosing Between Ford vs Chevy vs Dodge
There you have it! An inside look at the battle between Ford vs Chevy vs Dodge. However, to truly know what truck's right for you, you'll need to get in the driver's seat.
Visit a pickup truck salesroom today, and request a test drive. Sitting behind the wheel, you'll be able to feel which truck brand's calling your name.
Remember, if you buy used, you could get a break on your insurance rates! For more tips like these, read another one of our articles.
---