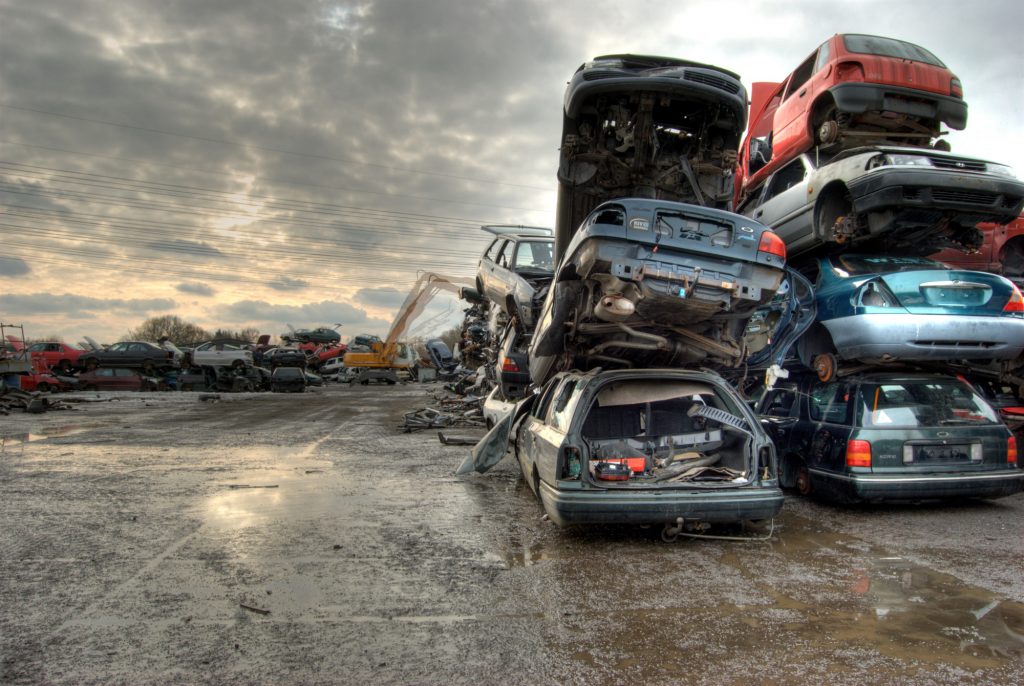 Every year in the US, 12 million cars are taken off the road. These cars may have outlived their usefulness to their owner, but 75% of your car's body and parts can still be recycled. Depending on your vehicle make your car may be worth more than you think, no matter what shape it is in.
Your choices include selling, trading, junking, or car donation.
---
---
Can the Vehicle Make Increase the Value of My Junked Car for Donation?
The condition of your car plays the biggest part of your options for your junked car. If the car is running, the frame is intact, and the body only has a few cosmetic dings or dents you can consider selling it or trading it in.
Donating a car to charity may not give you the tax write-off you were hoping for. If your car is in running order, trading it or selling it will offer a bigger pay-off. The average allowable charity write-off for your car is $500.
The IRS doesn't just consider the fair market value of the car, they also consider what the charity is using it for. Your car will be sold at auction for funding, or repaired and given to a needy family. You may not know what your total write off will be until you receive documentation from the charity at tax time.
Your vehicle make will also be a factor in your decision about the fate of your old car. The more the car is worth, the more you will be able to make in resale or trade-in values. This is especially true if the car is still running.
If you aren't sure what your vehicle is worth, look it up on this site.
When Would I Junk or Scrap my Car?
A minor accident will require minor repairs, while a big accident may require more advanced repairs. If those larger repairs equal 70% to 75% of your car's fair market value, the vehicle is considered "totaled."
There isn't much choice for getting rid of cars that are considered totaled. The odds of recouping your losses in a sale or trade are significantly lowered. Even charities may balk at cars that require extensive repairs.
Insurance companies may have their own requirements for repairs after a car accident, but generally, they follow the 75% rule. In this case, you will have the best chances of getting some cash back by junking it or selling it for cash. The average price for junked cars is between $100 to $500.
Depending on the make of car, you may be better selling it as a junker yourself. People may be in the market for a specific make or model of car to repair their own cars.
Surprisingly, more expensive cars will not necessarily equal higher payouts at a junkyard. An expensive or rare vehicle make means the car's parts are not "in demand." This means that while they are more expensive to buy, they aren't as likely to sell as mainstream vehicle parts, like Honda or Toyota.
If you have a higher priced car, shop around to see what junkyards or scrap yards may be willing to pay more for the parts. You might do better to sell the vehicle privately to someone who is looking for your vehicle make and model. Selling your junked car is a hassle many people want to avoid, however, do check your local scrap prices first.
Should I Try to Repair My Vehicle?
If your vehicle only needs minor repairs, you may be able to take it off the road and work on it yourself. You can find a detailed repair manual online, and lots of helpful information.
Some places will rent a garage with a lift for you to repair your own vehicle. A rental garage may offer basic tools for your repairs.
You might find that removing certain parts before junking the car is worth your time. Consider removing:
Stereo and GPS systems
Fenders and bumpers
Catalytic converter
Battery
Uninflated airbags
Windshield wipers
You can sell these parts individually, especially if the scrapped car is an expensive model.
Things to Remember Before You Donate or Scrap the Car
You may be eager to be done with the process as quickly as you can, but there are a few things to keep in mind before signing that title over to a junkyard or charity.
1. Bring the Car to the Site Yourself
If at all possible, drive or tow the car to the scrapyard.  Junkyards will pay a little more if they do not need to pick up the car themselves. This rule doesn't apply if you donate your car to a charity.
2. Comparison Shop
Call around to different junkyards and compare payouts. You could find that a company a few miles further will pay better than your local yard.
3. Remove all Personal Items
Make sure you have taken everything out of the glove box and trunk. Check under the seats for items that rolled out of reach and were forgotten. Don't forget your chargers, CD's, and sunglasses.
4. Have the Proper Paperwork
You will need to sign over the car's title to the receiving facility, whether it's a junkyard or a charity. If you've lost the title, gather the registration and a form of identification as proof the car is yours to sell, donate or junk.
5. Grab Your Tags
Avoid fines from the MVA by keeping your insurance until you turn your tags in. When you turn in the tags, make sure you get your receipt and keep it somewhere safe.
Remember that it is never acceptable to tamper with the car's odometer, even if you are planning to junk it.
Is Your Car Genuinely Junked?
Something as simple as a clogged filter or electrical problem may cause your check engine light to come on or your car to run rough or refuse to start. If you have a newer vehicle make and model, it depends largely on complex electronics to run properly. It's worth taking the time to evaluate the car before choosing to junk it.
If you have any questions about troubleshooting your car's engine problems, contact us today.
---