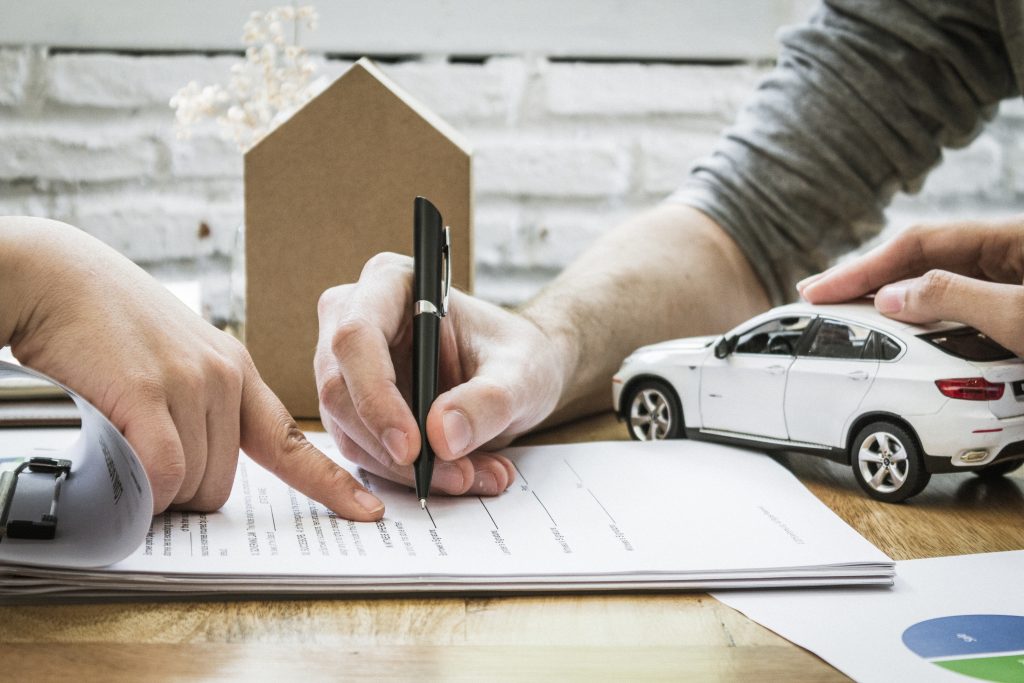 More than 80% of new vehicles in the U.S. were purchased using financing in 2018. Financing is also a popular option for buying a used car, and lenders are happy to compete for business.
As a first-time car buyer, it pays to be aware of some of the mistakes you can make when choosing a loan. To help you avoid these common pitfalls, here's a list of seven mistakes you could make with your first-time auto loan.
---
---
Mistakes with Your First-Time Auto Loan
It's easy to get caught up in the excitement of buying your first car, but not paying attention to the deal could end up costing you a lot of money. Before you go car shopping, read this list and keep it in mind when you're coming under pressure from a salesperson.
1. Thinking about Financing Last
The temptation to make a bad financing choice increases when you've seen the car of your dreams. Don't let the first time you think, "I need a car loan" be when you are seated opposite a salesman.
First, take a look at your personal finances and determine if you will need to borrow from a lender, or if you could get a loan from family instead. While it might be humbling to go to the Bank of Mom and Dad, their interest rates are likely lower!
If you do need to get finance then you need to consider that as a separate purchase. Yes, you are buying the car which will hopefully last you for many years but the loan will be with you for a long time, too. Go into any discussion about finance from the perspective of a customer and make sure that the deal you get makes good sense for you.
2. Choosing Before You Have Financing Approved
You'll probably have seen adverts for car dealerships offering you a low monthly payment for driving off in a new car. You might think you can't afford a car payment based on those deals, but you could be wrong.
Alternatively, it could be that those deals are quite expensive, and for that monthly payment, you can get finance for a larger amount. The financers make the decisions, so it pays to speak to them first and find out what they will lend you. Once you know that, you can choose a car that is realistic for your monthly budget.
3. Financing with the Dealership
It might seem simpler to let the dealer organise the financing for you, but the truth is that you could end up paying extra on a car loan this way. Dealerships like to sell finance because they make money on that as well as the sale of the car. Guess who ends up paying that extra cash?
That's right. You.
4. Focusing on the Monthly Payment
When looking at how much a loan is going to cost you, look beyond the monthly payment. If you take the loan out over a longer period, you could end up paying much more for your car in the long-term.
To work out the total cost of the car, multiply your monthly payment by the number of monthly repayments. The loan might be affordable, but is it a good value?
The thing to keep in mind is that car values depreciate quickly. Let's say you take a loan out that will cost you $10,000 for a car valued at $9,000. The next year your car is valued at $8,000 but you've only paid off $1,000. You're now in negative equity, or "underwater." If something happened to your car, you could still be in debt even after insurance payouts.
If you're wondering, "Can you have two car loans?" the answer is a definite "maybe." The loan companies will look at your credit record and earnings to decide if you can afford it, but in theory, it isn't a problem.
5. Not Considering Credit Unions
Credit Unions often offer better rates than other car finance options. If you're eligible for membership, they are worth considering as some offer special deals for first-time car buyers. Not sure if you're eligible? MyCreditUnion.gov can help you find out.
You should also consider looking at community banks, who may offer similarly low rates. There are other forms of finance, too, including peer-to-peer lending. It's worth doing your research to find out what is available to you.
6. No Down Payment
One way in which loan companies calculate whether they should lend to you is how risky the deal is to them. If they are lending you the full value of the car, then the LTV (Loan to Value ratio) is high, that will lead to a more expensive loan.
On the other hand, if you are able to put a percentage of the value of the car as a downpayment, you're lowering the risk to the company. That should lead to a lower interest rate for you. If you don't have the cash to hand for a downpayment immediately, you could consider payday loans with instant approval to avoid a delay on your purchase.
7. Not Getting the Car Checked
Unless you're great with cars yourself, it's always advisable to have someone who has knowledge and experience look the car over for you, to avoid buying a lemon. If you don't have a personal friend who can do this, then a local mechanic may be happy to do this for a small fee.
Making a Wise Purchase
From the moment you think, 'Should I get a car loan?' to your final purchase, it's important to remember that you can always say no, and walk away from any deal. Don't let a salesperson convince you that you need to sign on the dotted line unless you're happy with the deal. We hope this checklist tells you everything you need to make a great choice for your first-time auto loan.
Once you've bought your car, you'll want to know how to take good care of it. You'll be glad to know that you can download many car manuals from our site, which will help you to carry out routine maintenance yourself.
---