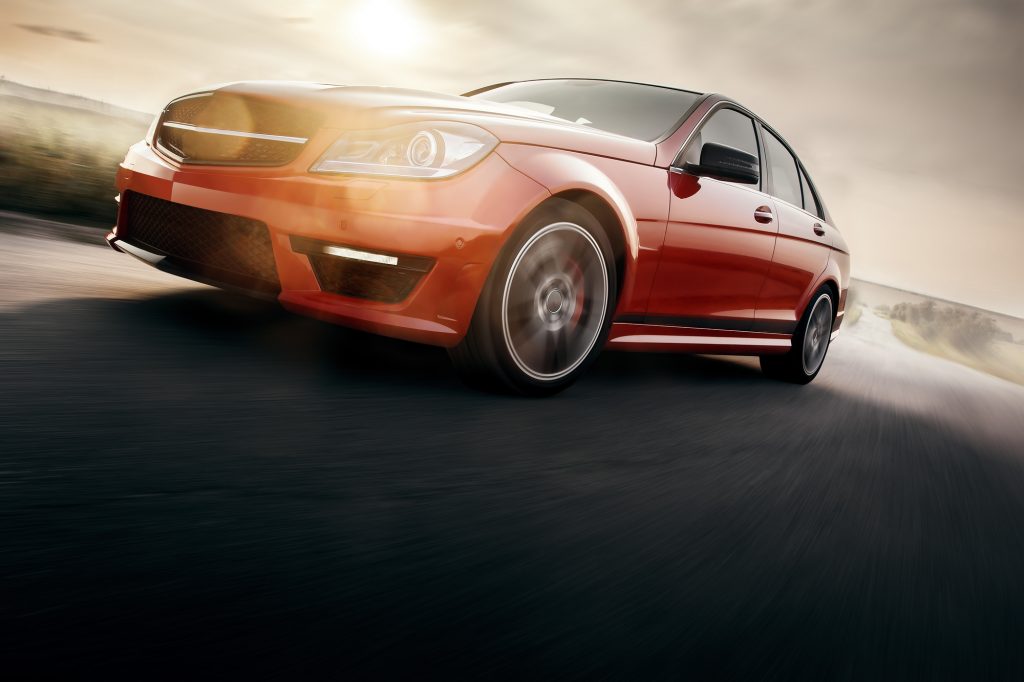 The definition of what's a sports car is different than it was even ten years ago. When your average grocery-getter produces more power from a little four-banger than a big V8 from the 80's, while delivering fuel mileage that's exponentially better, perceptions need to change.
---
---
These advancements mean that you can get sports car performance in anything from a 2+2 coupe to a full-size sedan to even an SUV. Tight handling, perfectly-weighted steering, quick acceleration and immediate braking is now available in any number of different vehicles.
So what continues to make the exclusive category of sports car special?
The answer to that is "purpose." Unlike your executive sedan, these sports cars don't care much for your comfort. They're not for commuting or dropping the kids off at school.
They're for driving.
Keep reading to learn what are the best sports cars of 2018.
Audi R8
In 2006 Audi decided to shake things up. They had started to gain market share due to their commitment to top-notch interiors and impressive Quattro all-wheel-drive system, solidifying them as equals to their German competition, BMW, and Mercedes-Benz but were more a luxury Volkswagen than practical Porsche. So, they decided to do something about it.
Enter the R8.
Right out of the gate, Audi introduced a vehicle that was equal to what the best of what Germany and Italy could offer. Whether it was thanks to sharing a corporate owner with Lamborghini or just good ol' engineering, they managed to produce a world-class sports car great from the first year.
Not that they didn't improve on it. 12 years of improvements have only made it that much better. It's first iteration feature a 4.2 liter V8 that produced 420 hp. The 2018 R8 can be equipped with a V10 that manages 610 hp.
Jaguar F-Type
After being squandered under Ford, Jaguar, along with Land Rover, were sold to India's Tata Motors where they were resuscitated and brought back to glory.
The best example of this is the F-Type, a gorgeous blend of Euro-styling and British muscle. It comes standard with an eight-speed automatic transmission, but, in true British racing tradition, offers an optional six-speed stick.
It's also one of the rare sports cars where the V6 engine may actually be preferable to the larger V8, simply because the larger engine is so powerful.
Let that sink in.
BMW M2
The M3 is legendary for having taken a practical sedan and upping all the go-fast parts with that of a sports car. It's known for being practical, reliable, and blisteringly fast.
Recent years have seen its edges soften — success often breeds excess, after all. It's gotten larger, heavier.
Luckily, the smaller M2 has stepped up to occupy the space its big brother left vacant: a purpose-built daily-runner that is as comfortable on the parkway as it is the race track. It is perfectly balanced and is easy to get sideways, all while offering a serviceable back row. It may not have the clout of the M3 of old, but it certainly has the handling.
Chevrolet Camaro Zl1 1LE
The Camaro has proven to be a bit of an existential crisis for the Bowtie brand: the Corvette has long been intended as it's halo car, demonstrating the best of the company's engineering and styling.
Yet the Camaro has proven itself every bit as good. Despite its reputation as only being good on the straights, the Camaro has beaten the best from Germany and Japan around the corners repeatedly.
The ZL1 1LE does even more. It takes the standard Camaro parts and swaps them out for upgrades that push it close to hypercar territory.
Porsche 911 GT3
The granddaddy of them all, the 911, has 55 years of engineering research behind it. It's an icon, both for its inimitable styling as well it's renowned performance.
Consider this: having the engine hanging behind the rear-axle shouldn't work. Instead of acknowledging this oversight, the wizards at Porsche have instead committed decades to making this layout the standard for sports car performance.
And succeed they have. Even before benefiting from the lower-mass of boxer engines, they had managed to keep things tidy enough to steer the 911 to numerous wins in a number of different competitions.
The GT3 sits at the top of the food chain. It uses a naturally aspirated 4.0-liter boxer engine to produce an unnatural 500 hp. Oh, and it's redline is a whiplash-inducing 8250 rpm.
Acura NSX
The original NSX was renowned for achieving supercar performance with rock-solid Japanese reliability. It came without warning and raced to sports car history.
It introduced the all-aluminum body and had an all-aluminum V6, all of which went a long way to keeping the weight down. It had a stick shift and rear-wheel drive, and little else that could get in the way of the driver and the road.
Whereas the original NSX, which ran until 2005, was a masterclass in simplicity, it's 2016 relaunch is a lesson in engineering complexity. One V6 and three electric engines use a dual-clutch semi-automatic transmission to transfer the near-600 hp to the road.
The NSX is a testament to the ingenuity of auto engineering; a hybrid of history's internal combustion and the future's plug-in power.
Alfa Romeo 4C
Alfa Romeo does things it's on way. The storied Italian nameplate has something these other cars lack: style. It's an eye-popping design that screams sports car.
And that's not the only thing that screams about the 4C. It's little 1.75-liter inline-four is good for an eye-watering 237hp. If that doesn't seem like a lot, consider that the Alfa has a carbon fiber frame and weighs less than 2500 lbs.
Whereas the NSX utilizes all the latest technologies to help anticipate the driver's needs, the 4C calls back to a time when you were aware that you were just inches above the ground. Every bump and imperfection is transferred from the road through the steering wheel, keeping the driver dialed-in.
Lamborghini Aventador
Right?
There's no way you can talk about sports cars without mentioning that most lust-worthy, ridiculous manufacturer of two-door playthings.
The engine sits right behind the driver, 6.5-liters of throbbing V12 worth 730 hp and a face-melting 507 lb-ft of torque. It's made of carbon fiber and has scissor-doors and looks like it should be on a ten-year-old's wall.
Which is to say it's everything a sports car should be.
Ferrari 488 GTB
Sorry, the Lamborghini is everything a sports car should be unless it's a Ferrari.
That other Italian manufacturer, Ferrari has a proven history of performance, style, and swag. Gorgeous to look at, beautiful to drive, and function-first, the 488 GTB is an age-old concept executed with the most cutting-edge auto tech available.
The motor sits in the middle and power goes to the rear, just like nature intended. Give it a flat three-seconds and it'll bring you to 60 mph while its dual-clutch transmission lets each gear hit 8000 rpm on its way there.
Like with the Lamborghini, the engine sits just over your shoulder while it does this.
Mazda Mx-5 RF
Yup.
It's tiny, it's only 155 hp, and it's often associated with hairdressers. So why's it here?
Think of it this way: Driving any of these other vehicles in the real world can easily lead to frustration. Anywhere traffic can impede your enjoyment, it will. So, instead of opening the engine up and laying some rubber, you can only tap the accelerator, mindful that a heavy-foot may put you into the back of the car in front of you.
Not a ton of fun, right?
Now, what if, instead of babying a Lamborghini around the city, you could drift into the driveway. You could row your own gears, cutting around traffic and finding infinitesimal amounts of space between cars, all while obeying the speed limit.
That's the beauty of an MX-5. It takes the axiom 'better to drive a slow car fast than a fast car slow' to its logical conclusion. It's immediately responsive, whether you're stepping on the gas or pulling on the wheel. It brakes quickly and turns on a dime. And it does all this at speeds that won't land you in jail.
And it looks damn fine with the roof up.
The Best Sports Cars: The Final Word
Of the best sports cars of 2018, it's irrelevant to choose a winner. With so many options on display, it really comes down to preference.
Whether you want the American muscle of the Camaro, the incomparable style of the 4C, the tradition of the 911 or the all-out insanity of the Aventador, each of these models offer an unparalleled driving experience.
To read more from our blog, check out our other posts. We have a ton of information to keep you in-the-know of the automotive world.
---