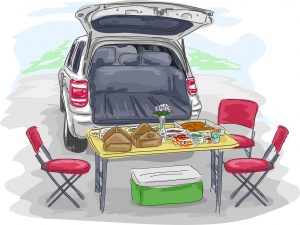 When football season comes around, there's only one thought on your mind (and your bros, too): tailgating.
The great old American past time, one that's survived season after season unscathed. There's nothing quite like getting out there with the boys, grilling on a bright, sunny afternoon, and watching the game.
---
---
The only problem? Your tailgating game needs some work. If you're showing up in that old pickup truck with a rusty bed and a half-broken cooler, no one will want to party with you.
You're panicking — don't worry. We've got you covered.
We looked into the best tailgating cars for you and your bros, and we compiled a little list to help you up your game.
Don't be the lame one with the beat up car. Take your tailgating experience to the next level.
Let's get on the field and talk about the ultimate cars for tailgating with your bros.
How Do We Know Which Car is Best?
Look, there's tons of cars out there that can work for tailgating.
What we wanted to do is give you the ultimate options, the ones that will turn heads in the parking lot when you roll up.
With that in mind, we have two different categories to choose from: modern comfort, for tailgaters who want the convenience and features of an up-to-date car; and classic style, for people who want to add a little flair to their tailgating experience.
Modern Comfort
In the modern comfort category, we've come up with two main cars that get the job done (and do it comfortably).
1. Honda Ridgeline
Though it's a bit of an older truck (2006 to 2014), the Honda Ridgeline's bed sports a leak-proof interior, meaning you can use it as a cooler. This, plus the large size and affordability, make it a no-brainer for tailgates.
2. Ford F-150
The classic Ford F-150, a true truck through and through. The bed is absolutely huge, meaning it can transport tons of grub and drinks to the tailgate. There's also a convenient step-up tailgate to help people in, and a cool side step to help you get in even when the gate is closed.
If you're looking for a strong truck and a monster tailgating machine, the Ford F-150 is a great choice.
Classic Style
But we know you don't just want a big truck. You want a big truck with style. Don't worry, we got you.
1. 1976 International Harvester Scout Traveler
A nice ol' blast from the past.
Why not roll up in a classic vehicle with an open-air look and no back seat? Perfect for tailgating in style.
2. Freightliner Refrigerated Freezer Truck
Before you accuse us of being football funny, hear us out. Who wouldn't want to transport all their food and drinks in a giant refrigerated truck? You can even paint the sides with your team's logo.
No matter what you do, this truck is sure to attract attention.
So what do you think? Do you have a better car that has given you some great memories and stories of game day?
---