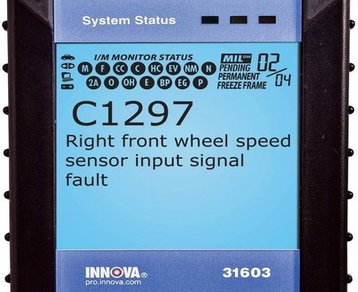 Repairing ABS problems on older cars can be challenging. On GM vehicles some common failures generate technical service bulletins that can make diagnosis easier.
At the bottom you'll find parts like pressure accumulator's, ABS modulators and wheel speed sensor kits that have been known to fail on GM trucks and cars. This page is about a friends car I fixed that required no parts at all.
---
---
Although the car is an old 95 Pontiac Bonneville STE, many GM vehicles through the 2001 model year suffer from this issue. The complaint from the driver is the TCS or traction control light comes on. When this light comes on you'll often have the ABS warning light pop on as well since the two systems work together.
My first problem with the old Bonneville was it didn't have an OBD II diagnostic port. This meant the latest generation of cheaper ABS scanners, like the Innova 31603 combination scan tool pictured to the left, wouldn't pull the code or provide wheel speed data to verify proper operation of that side of the ABS system.
Most of these scanners only work on vehicles 1996 and up. The second problem I had, is I'm not allowed to use shop equipment on personal or friends vehicles. This left me without the ability to connect any scan tools to the old, but mighty Bonneville STE.
I went to my online auto repair manuals and looked for bulletins that referred to ABS problems for this Pontiac. Thankfully, I did find a bulletin to help me track down the problem. This bulletin would apply to GM's counterparts such as the Buick LeSabre, Park Ave, Oldsmobile 98, and the Olds 88 from 1995 years and newer.
Repairing GM ABS and TCS Warning Lights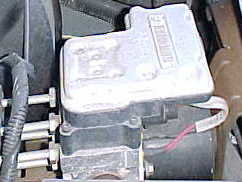 The traction control system and the anti-lock brake system work together to apply the brakes to either stop wheel lockup or tire spinning. So the components for the systems are shared for the most part.
The fact that both the abs warning lamp and traction control lights where both on at the same time was a major hint for solving the problem. The technical service bulletin I found describes in detail that the problem is corrosion in the shared ground splice for the pressure modulator valve.
This junction is located very close to the electronic brake traction control module or EBTCM. I'll post a better picture below. Or if you purchase an online car repair manual such as auto zones all data you will be able to find the component location from the wiring diagram section.
The splice is labeled S129 in the factory wiring diagram and to get at it you have to remove the plastic conduit that is around the wiring harness. Again S129 is close to the electronic brake traction control module.
In fact the splice itself is about 3 inches from the module assembly. In my case the splice was covered with black tape and moisture had seeped in and caused a large amount of corrosion at this connection.
This situation caused intermittent operation of the abs pump motor. Also note on the 95 Bonneville that I worked on it was necessary for me to remove the air cleaner assembly and the windshield washer bottle to gain complete access to the repair area.
On vehicles equipped with a automatic level control you will probably have to remove the compressor that services the system as well. Sidebar: I see a newer TSB that some Tahoe and Silverado trucks will need the ABS Motor and pressure modulator valve replaced. These parts are cheaper on Amazon.
Repairing ABS wiring grounds is no different than any other electrical wire repair. I cut out the heavily corroded splice and put in a new one using a standard brass splice crimp and generous amounts of rosin core solder.
Also before I started the repair I slid a over-sized piece of heat shrink wrap over the wires. After the repair I positioned the shrink-wrap and melted it around the connection with my handy butane soldering torch to prevent moisture from penetrating this area again.
Repairing ABS problems on older vehicles can be difficult because you can't walk up to them and pull codes easily. When it comes to diagnosing traction control light issues, you may have to be creative and use what you have available to solve the mystery.
These older ABS and TCS systems suffer the same problems as modern-day ones. The most common failures will be from external damage to wheel speed sensors or corrosion on aging abs wiring.
Online repair manuals provide diagnostic charts for specific codes. They also provide component location diagrams for connectors and splices that help find the problem.
So you may not be able to follow the diagnostic charts in repairing ABS problems on specific models but it should be helpful in locating tcs and anti-lock brake system grounds and connectors. These can be where the problem hides due to exposure to harsh environmental conditions and road-salt.
Bookmark or share this repairing abs problems page with a friend.
Electronic Brake Control Module Pictures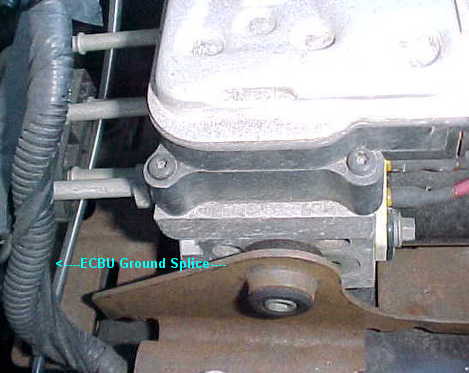 This next link takes you back to the auto repair news page. You can see some more popular technical service bulletins as well as more information on repairing ABS problems.
Find out what other kinds of information is covered on the you fix cars website. Also get some answers to auto repair questions.
---