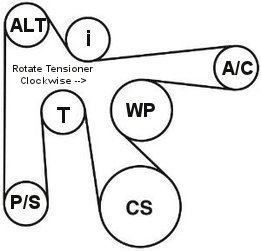 This page can help solve Chrysler serpentine belt problems common on both cars and mini vans. Included is the belt diagram and details about the enhancement kit now available.
I'm also including information from a technical bulletin showing how the dealers were fixing this issue. The 3.3L and 3.8L engines are the ones with the most problems when it comes to the engine belt coming off.
---
---
The model years are 1996 through 2001, but I've seen older and newer ones do the same thing. Automobiles with this engine option installed are some of the most popular ever built. Here are diagrams for other engines like the Chrysler V8 belt diagram for 3.9L 5.2L 5.9L. If you're looking for a complete Dodge Caravan work shop manual we have them as well.
Now lets get back to the Dodge V6 with all of the problems. Plus, an important tip for removing some pain when doing the job. The Chrysler Town and Country, Dodge Caravan and Voyager have a tendency to throw the serpentine belt after driving through a puddle.
In my opinion this problem is not limited to minivans. If you have a V6 in a Chrysler product this kit is the solution for the belt popping off. It can also get rid of that annoying squeak noise at low rpm.
The Serpentine Drive Belt Problem
I say any vehicle, because the kit is advertised for minivan owners only. However, it will fit most cars with these engines that fall within the application range.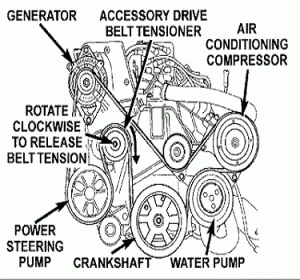 If you're a Caravan owner then you've probably seen your belt shred like cheese or come off completely when the van goes through a deep puddle or heavy snow. This enhancement kit solves the problem for good.
I've installed it on several vehicles with good results. What solves the belt coming off problem is the ridge or guide on the new and included pulleys. The drawback is, this feature also makes the new belt harder to install.
For this reason I recommend getting a special serpentine belt tool to give you the extra leverage needed to fully disengage the tension spring.
This assures you'll get just enough slack to squeeze the ribbed side of the belt over the ridge guide. Overall I've had little experience with Mopar products. However, my neighbor has a Chrysler Town and Country SE with a 3.8 L engine. We live in Florida and experience extremely heavy rains and some minor flooding in our area during rainy season.
Every time my neighbor's minivan would go through a deep puddle it would take off the engine belt. Before discovering the gates solution kit and reinstalling it several times as well as replacing the serpentine belt along with the standard off the shelf tensioner this problem continued.
Chrysler Serpentine Belt Bulletin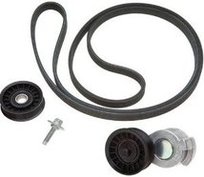 If there is one thing I can't stand it's having a comeback after an auto repair that I performed to the best of my ability. This being my neighbor's van, I definitely tried my hardest to put forth a quality job.
I used my favorite Gator Back belts name brand parts and took my time installing them. This did me absolutely no good, because after a heavy rain my neighbor would walk up my driveway and say hey my engine belt came off.
After reinstalling the serpentine belt I checked for pulley alignment and problems associated with belt tension. I checked how the belt was tracking and it looked okay.
At work I checked through technical service publications on the All Data system related to Chrysler serpentine belt problems. There's a ton of service bulletins on the Chrysler 3.3 L and 3.8 Liter engines for the model year 1996 – 1999. After reading through the bulletins I was left with the impression that I'm glad I bought a Chevrolet.
I don't have time to go through all of the bulletins, because this would be as thick as a phone book. So I'll stay on track, unlike the Chrysler serpentine belt and stick to the problem at hand. In my opinion one design defect of the engine compartment is the underside is almost completely open.
This allows water and snow to jump up inside and over the engine drive belt. The small splash shield underneath doesn't divert the water that well. Nevertheless, a new belly pan is not part of the technical service bulletin.
Engine Belt Misalignment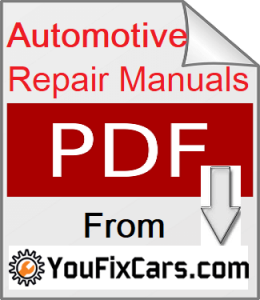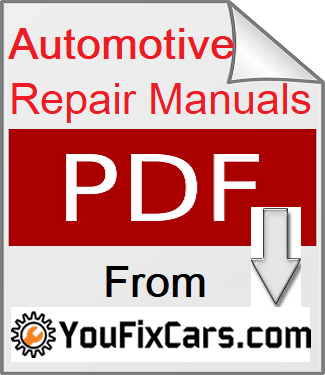 Gates drive belts came up with an Enhancement Solution Kit (available from Amazon) that is easier to install then following the repair bulletin from Chrysler.
The solution kit still takes some work and might not be right for all driveway mechanics depending on skill level. The factory recommended repair (at the time of this writing) is the replacement of the idler and the pulleys retaining bracket.
In the TSB I read, Chrysler's engineers have decided on some models the idler pulley is misaligned by .08 inches. This is why I couldn't see misalignment with my naked eye. An updated engine bracket and pulley assembly is available at your local Chrysler parts department.
This job is not highly technical, but is time-consuming. You will have to take a lot of stuff off to gain access to the engine brackets retaining bolts. This may not be a very good driveway or do-it-yourself auto repair. After replacing the engine bracket and the idler pulley and also installing a new Chrysler belt I found out about the Gates Enhancement kit.
So I did it the hard way by following the TSB. I now just install the enhancement kit when I run into this issue. What happened to my frustrated neighbor? We now only see each other at neighborhood block parties.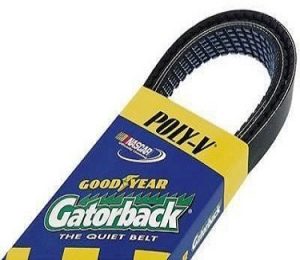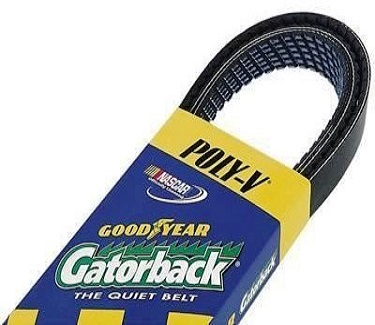 And when I make this statement, we completed these repairs about eight months ago at the beginning of the Florida rainy season. The Chrysler town and country has driven through puddles that they should have turned around and not gone through.
But yet the belt is staying on. In my opinion this repair has solved the Chrysler serpentine belt problem. So follow either method or take it to a dealer, putting the belt back on is not good enough.
Give this Chrysler serpentine belt page a bookmark or share with a friend having V6 belt problems. Then explore the other pages.
I wrote an article for the auto repair blog about timing belts and why it's important to check availability of complete timing belt kits.
To find more of my articles about car repair and do it yourself mechanical procedures that may help you fix your own automobile at home, visit my page that covers the latest automotive repair news.
This next page explains in full detail about how to get your hands on specific technical service bulletins for your vehicle. This next link takes you from Chrysler serpentine belt to online car repair manuals.
Short videos are all the rage on the Internet. In the spirit of keeping up with the Jones, I now have my own clips section. You can learn a lot about cars from watching these short auto repair videos.

To learn more about me and why I think some people can fix cars take a visit to the homepage for the youfixcars.com website. On this page is a description of how this website was designed to help DIY car mechanics and provide auto repair advice.
---