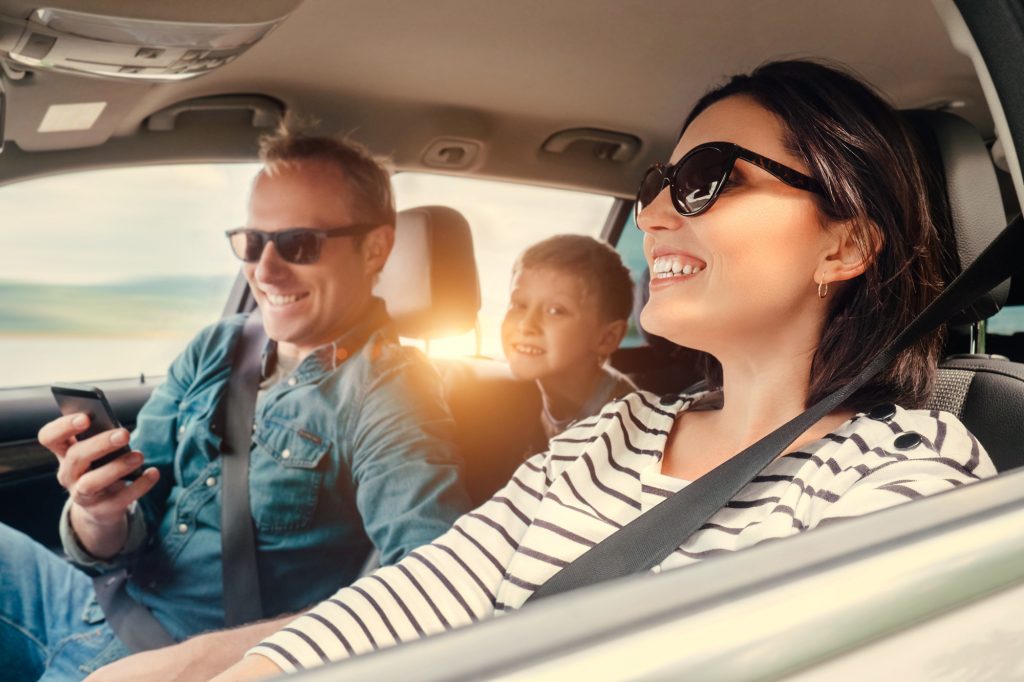 Are you thinking about taking a road trip this summer? You aren't alone!
Last year, a whole lot of Americans decided to go on road trips rather than flying somewhere on vacation because of the coronavirus pandemic. And even though it appears as though the pandemic is coming to a close right now, many are going to take the same approach to their summer vacations this year.
---
---
If you're going to follow their lead, you'll want to get your hands on the best vehicle for a cross-country road trip before you do. You don't want to set out in your family's old minivan only to discover that it's not equipped to hit the open highway for weeks on end.
You're going to need to have the best family road trip vehicle at your disposal to make the most of your adventure. Here is how to choose the best vehicles for a cross-country road trip.
Look for a Road Trip Vehicle That Will Be Big Enough to Fit You and Your Fellow Passengers
Prior to starting your search for the best vehicle for a cross-country road trip, you should figure out how many people are going to be accompanying you on your trip. The last thing that you want to do is invest in a road trip vehicle that's not going to fit you and all your fellow passengers comfortably.
Throughout the course of a road trip, you're going to spend hours on end either driving or sitting inside your road trip vehicle. It's why it's very important for it to have more than enough space for you and your fellow passengers to stretch out.
Ideally, you're going to want to shy away from heading out on a road trip in a small two-door coupe that's going to feel cramped. Your road trip might end up being a lot shorter than you anticipated if you take this approach.
Try to Find a Road Trip Vehicle That Is Great on Gas
Gas prices have been going up all across the country in recent months. As a result, you're going to have to prepare to pay a decent amount of money to keep a road trip vehicle gassed up as you travel across the country.
You can, however, cut down on your fueling costs by taking a road trip vehicle that's great on gas out on the road with you. There are lots of cars that will give you between 30 and 50 miles per gallon without a problem.
If you crunch the numbers and calculate how far you're going to travel on your road trip, it'll give you a better idea of how much a car that's great on gas might save you. You'll be surprised by what a terrific investment it'll be when you see what it'll save you on gas during a road trip.
Track Down a Road Trip Vehicle That Won't Need Much Maintenance
Do you want to spend your entire road trip maintaining the vehicle that you brought along with you? Of course not!
But that's exactly what you're going to end up doing if you bring a vehicle that needs to be maintained early and often. Something that has more than 100,000 miles on it is going to require you to do maintenance on a fairly regular basis.
You should make sure that your road trip goes as smoothly as it possibly can by obtaining a vehicle that is going to be maintenance-free. It'll allow you to enjoy your road trip rather than having to constantly pull your car over to maintain it.
Consider Going With a Road Trip Vehicle That Can Haul a Trailer
In a perfect world, you would get behind the wheel of a road trip RV when heading out to see the country. It would provide you and your fellow passengers with all of the space and amenities you need and prove to be the best vehicle for a cross-country camping road trip.
But if this isn't a possibility, why not do the next best thing by picking up a road trip vehicle that can haul a trailer behind it? You can spend your days driving around in your vehicle with your trailer behind you and your nights setting up shop in your trailer so that you can sleep and relax.
You can check out some trailers that would be perfect for your road trip on https://caravanwoods.com/. They'll shed some light on how you can kick your next road trip up a notch.
Make Sure a Road Trip Vehicle Has a Working Stereo in It
While you're driving from one state to the next on a cross-country trip, you're inevitably going to get bored. There will be long stretches of highway that won't provide you with a whole lot of interesting scenery to check out.
To avoid going bored out of your mind, you should have a road trip playlist all ready to go. You should also have a working stereo in your road trip vehicle so that you're able to bump your tunes and enjoy every second of them.
Putting on a road trip playlist is the perfect antidote to the boredom that you might feel at times when you're traveling across the country. It'll help you keep your energy levels high and put everyone in your vehicle in a great mood.
Start Searching for the Best Vehicle for a Cross-Country Road Trip
Taking a road trip across the country is going to provide you with a lifetime worth of memories. But in order to make sure that they're good memories, you're going to want to be sure that you have the best vehicle for a cross-country road trip.
Use the tips that we've presented here to pick out the perfect road trip vehicle. You should be able to find something to help make your road trip every bit as memorable as you want it to be.
Get more car-related tips and tricks by reading through the other informative articles that we've posted on our blog.
---