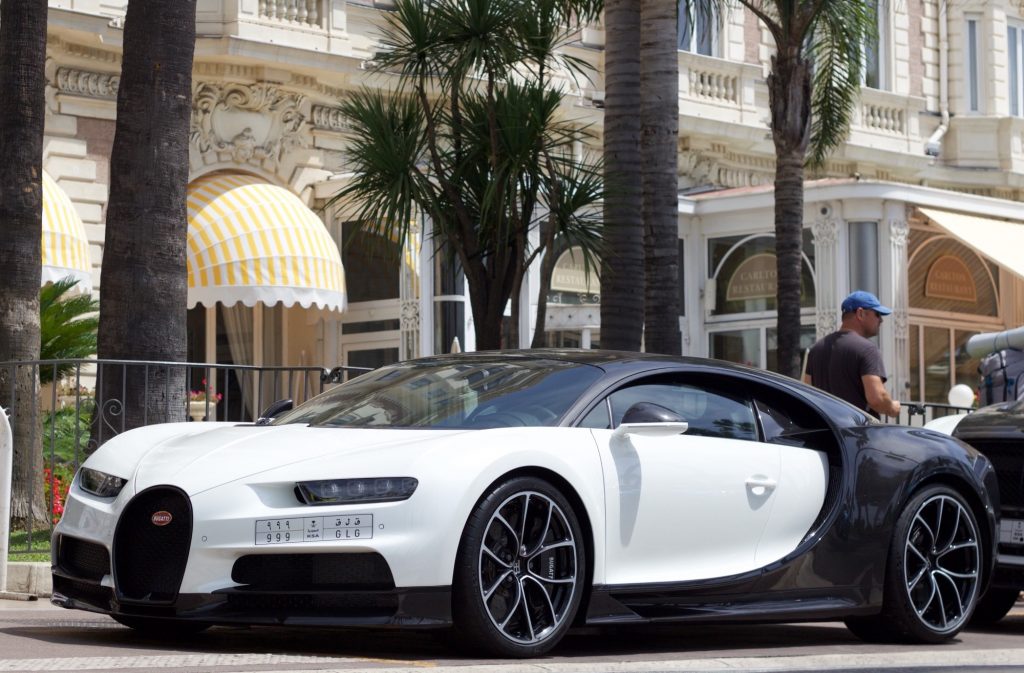 It's been said that if you blink at the wrong moment, you might miss a Bugatti driving by. 
This luxury car manufacturer doesn't know the definition of casual—their lavish vehicles continuously break records in speed.
---
---
You're probably wondering, How fast is a Bugatti, exactly? What qualifies as record-breaking?
We answer that question and more in this fascinating guide to the exotic car manufacturer.
1. The Question of the Hour: How Fast Is a Bugatti?
Of course, top speeds vary from vehicle to vehicle. Let's skip the small talk and get right into the record-breaking ride: the Chiron.
With this vehicle, Bugatti became the first car-maker ever to exceed 300 MPH. Its modified version hit a whopping 304.77 MPH. The test was conducted in Germany at the Ehra-Lessien test track.
Apparently, at a higher elevation, it would've been even faster. 
Events like this don't happen until rigorous, redundant, and extensive tests on things like tires have been conducted.
2. A Look at Bugatti's Troubled History
The history of the Bugatti hasn't always been luxurious. In fact, Bugatti has suffered from its fair share of financial problems.
These cars are expensive for a reason—they're not cheap to build. Bugatti released a new vehicle, the Royale, three years before the Great Depression. Severely reduced sales put Bugatti in a bad, almost nonexistent space as no one was willing to invest in their product.
But, they rose from their slumber thanks largely to the French government, which contracted Bugatti to build railcars.
3. What's the Most Expensive Bugatti?
Think you can buy a Bugatti without a price tag that includes at least two commas?
Think again.
Bugatti earns a spot on every "Most Expensive Cars" list ever—for a reason. The Bolide, an insane-looking sportscar that seems like it belongs to Batman, runs for a cool $3 million. And that's not even the priciest one available.
The famed Chiron goes for $3.3 million. The Veyron Vivere will run you a tiny bit more, at $3.4 million. After that, it starts to go up, with prices landing at $5.8 million (the Divo), $9 million (the Centodieci), and finally, the most expensive model of all: $18.7 million (after taxes—the La Voiture Noire).
4. 3D-Printed Parts: That's a Thing Now
One thing that makes Bugattis so special is their specific weight-to-power ratio. The Bolide sits at an epic and notable 0.67 kg/PS.
What contributes to these desirable ratios? The answer might surprise you—it's 3D-printed parts.
The Bolide's fastening elements are made completely of titanium. It also uses titanium alloys in several other places. These parts are all 3D-printed with thick walls and an extremely thin design.
Bugatti's also experimented with suspension pushrods, brake calipers, and tires.
Bugatti: No Lack of Style and Steez 
Now you'll never wonder again, How fast is a Bugatti? What makes Bugatti so great? Will I ever be able to afford a Bugatti?
Unfortunately for most of us, the answer is no—but it doesn't hurt to dream, does it?
If you've got more questions, we've got more answers. Keep scrolling our page for fascinating news like this!
---