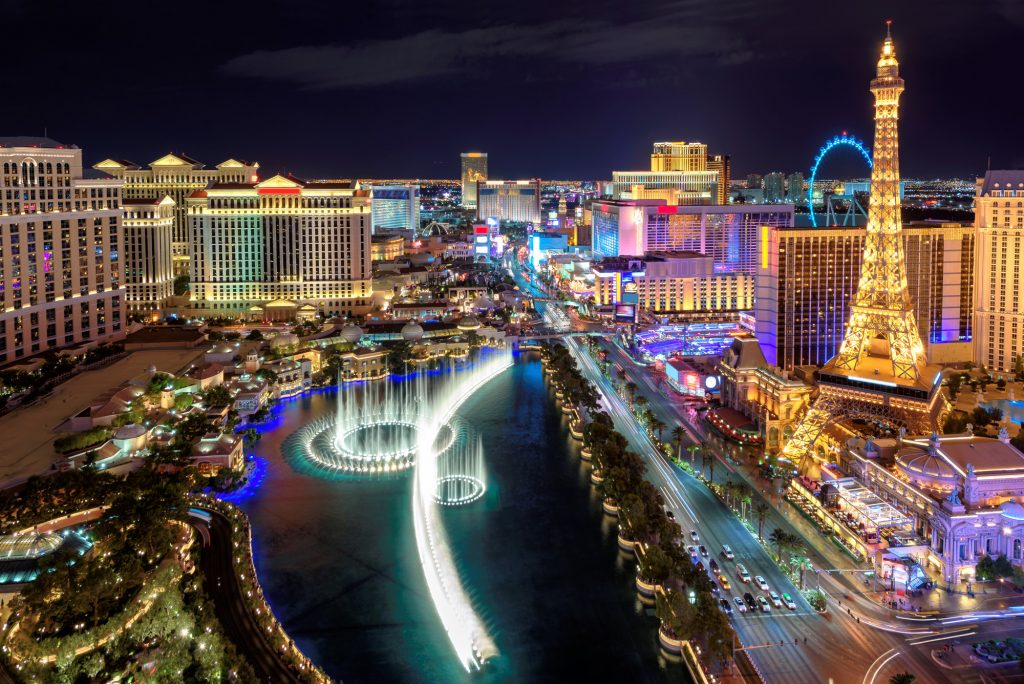 42,523,700 tourists visited Las Vegas in 2019. If you're thinking of visiting one of the most exciting cities in the country, it helps to have a plan. Otherwise, you might miss out on some of the excitement.
With this guide, you can discover shows, gaming, and cultural attractions that are bound to make your trip memorable.
---
---
Keep reading to discover the top 10 things to do in Vegas. Then, get those bags packed and join in on the fun!
1. Take a Photo in Front of the Sign
Your first stop should always be the Las Vegas sign.
Grab your camera and take a photo to mark your trip. Taking a photo in front of the "Welcome to Fabulous Las Vegas" sign is an iconic moment. Once you have your photo, you have proof of your wild adventures!
When drunken memories cause the rest of your trip to fade, this photo will at least commemorate your arrival.
2. Go Indoor Skydiving
There's no reason to keep your feet firmly planted on the ground. Instead, one of the best things to do in Las Vegas is fly.
That's right! Las Vegas has an Indoor Skydiving center.
Not everyone wants to jump out of a moving plan and plunge toward the earth. Instead, experience the thrill of a free fall without making a jump. Indoor skydiving will let you experience the adrenaline rush and gusts of winds in your face within a safe facility. 
Embrace the messy hair and leap!
3. Enjoy the Cuisine
Foodies, rejoice! There are plenty of delicious cuisines you can try while you're in Las Vegas. Grab your smartphone and start searching for your favorite cuisine.
If you're feeling fancy, get dressed up to visit one of Las Vegas' high-end restaurants. For those of you comfy in jeans and a t-shirt, take the time to explore one of the Strip's hole-in-the-wall restaurants. 
There's so much delicious food to gorge on that you're bound to want seconds.
Many different celebrity chefs host red carpet events, including:
Andrés
De Laurentiis
Fieri
Gagnaire
Mina
Puck
Ramsay
Robuchon
Savoy
If you plan on going somewhere special, make the effort to book a reservation in advance.
4. Take a Gondola Ride
Feeling romantic? Why not take a gondola ride at sunset? Enjoy the view, float along the waters, and enjoy an Italian serenade as you glide along the Strip.
The glittering lights will keep you company as you glide by the shops and restaurants. 
Once your ride is over, you can have a romantic, candlelit dinner for two and continue the mood. 
If you're not interested in riding on water, head over to the Bellagio Fountains. There, 1,214 water jets will pulsate 460-feet into the air, making for an entertaining show. Have your cameras ready to take a few photos.
The fountain show is also timed perfectly to 30 different songs ranging from Celine Dio to Rat Pack.
5. Discover a Need for Speed
Do you love to drive? There are plenty of wild rides throughout Vegas. For example, Audi has paired with Disney to create a VR-based video game. You can find out more here.
You can also take the fastest ride of your life with the Richard Petty Driving Experience
If you love race cars, you can feel what it's like to compete in NASCAR with this experience. A professional driver will speed you around the track for three laps. During the drive, you'll reach speeds up to 165 miles per hour.
Talk about a wild ride!
6. Head to a Show
Las Vegas has over 149,000 hotel rooms. Instead of spending your entire trip inside, head out and enjoy a show!
There's no limit to your options. As the Entertainment Capital of the World, Las Vegas is full of exciting shows. Of course, attending a show made it on our list of the top 10 things to do in Vegas!
There's a show for everyone. Make sure to book your tickets beforehand, especially if you're going with a large group.
7. Explore an Exhibit
If a show isn't your style, try one of Vegas' exhibits.
Start with TITANIC: The Artifact Exhibition. Fans of the film (and history) can enjoy an informative, entertaining presentation of artifacts from the real Titanic. That includes:
Luggage
Floor tiles
Unopened bottles of wine
A piece of the ship's hull
You'll also get the chance to see recreations of the famous ship, including the Grand Staircase and outer Promenade Deck. 
If you're not a Titanic fan, consider BODIES: The Exhibition. This exhibit showcases real bodies and actual organs using state-of-the-art preservation techniques. The exhibit's goal is to promote scientific knowledge.
As you explore the exhibit, you'll gain a glimpse into the human body's intricacies. Nine galleries feature anatomical specimens, making this the largest permanent anatomical exhibition in the US.
8. Head on Up
If you have a fear of heights, this one isn't for you.
Head up to Vegas' iconic Stratosphere Observation Deck. As the tallest freestanding observation tower in the country, this is the best spot to take in the views. 
The deck is 1,149 feet above ground. The 360-degree views will let you see the strip, downtown, and more. There are even thrill rides at the top of the tower!
9. Take a Walking Tour
If you're more comfortable with your feet on the ground, consider taking a walking tour.
There are tours of the Hoover Dam, the Grand Canyon, Fremont Street, and more!
10. Try to Escape
Have what it takes to get out of a complicated escape room? Partner with your friends and family members to make it out by solving clues. Attending an escape room is a great way to take a break from the heat outside.
What Happens in Vegas: The Top 10 Things to Do in Vegas
What happens in Vegas doesn't have to stay in Vegas. Instead, you can take tons of stories home with you after your trip. With these top 10 things to do in Vegas, you can make the most of your journey!
Are you driving to Vegas this year? Consider getting your car checked before you go. Explore our automotive resources today for more tips. 
---