Car Code Scanners Under 100 Bucks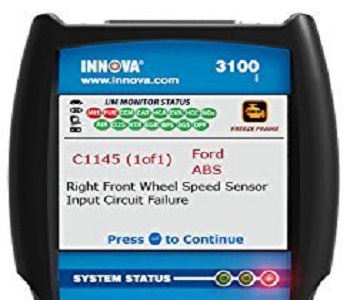 I have some inexpensive car code scanners on this page. They're posted at the bottom and range from $25 – $99.
Today I wanted to talk about an older model that has come down in cost while maintaining some interesting features at this affordable price point of around $90.
---
---
The scan tool is made by innova and the model is called the 3100. Although I don't own this tool I used a demonstrator model at the local parts store and I do own the Innova 3120.
So I'm familiar with this line of products. I first saw the 3100 at an auto parts store where they offer to pull the trouble codes for free. The employees scanned a customer's vehicle to see what was set in memory, but said they weren't allowed to reset the check engine light. This is why you need your own scan tool.
What makes this inexpensive car scanner worth writing about to me, are the advanced features available for the low price.
Although some features I'm about to discuss are not new to the automotive scan tool, as far as I can tell, they are new to scanners that are below the one hundred dollar price mark. In fact, there are so many cool features and problems with them I'm not exactly sure where to start.
3100 Code Scanner Features
I guess a good place to start is with the standard features you would normally find on a scanner in this price range. This tool will retrieve diagnostic trouble codes and provide on-screen definitions in your choice of languages.
Like other OBDII auto scanners they're made for vehicles from the model year 1996 and newer. One of the features that I was most surprised to see at this price point was the ability to read live data on the back lit screen.
You can pull up a list of sensors, scroll around and read their changing values in real time. This is a feature I hate to perform diagnostics without. There is also a freeze-frame function so you can take a snapshot during a fault situation and then play back the data stream to isolate the problem areas.
I wrote an article on my blog about the general use of Auto Scanners and Snapshot Mode just in case you need more information on that function. One of the more interesting and possibly troublesome features that's included is the access to Innova repair solutions.
This type of auto repair data base is not entirely new to the car code scanners business. Other companies also have similar options. Innova calls their trouble code database fix assist. Again this is the first time I have seen this type of feature in such an inexpensive tool.
Check Engine Light Repair Solutions
The ability to connect the 3100 scan tool to your personal computer sounds very cool, but this does come with pluses and minuses.
The first plus is the needed cable comes with the scan tool. This is a standard USB cable that you plug into your PC. The car code scanner also comes with a software disk on CD.
You'll have to install the diagnostic program on on your home PC. This it when it can get tricky. Whenever you have a wide variety of personal computers being utilized, your experience will also vary greatly.
Some people with old windows 98 computers have a lot of trouble hooking the auto scan tool up to their PC, while others with newer computers with windows 10 installed have no problems at all. So remember I specified your results will vary.
Once you get everything all set up and you plug your scanner into your personal computer you can go to Innova.com and get a free report from the repair solutions area.
This apparently is a basic report. More detailed results that claim to provide a complete solution to the problem are available at additional costs.
So although this feature is pretty cool at this price point of around $90 it may not provide all of the information you wanted without an additional purchase.
Naturally people get angry about putting in the effort and then getting blindsided by an additional charge. For this reason you'll see many bad reviews of the fix assist service.
What to Expect from the 3100 Scan Tool
Just like anything in life it's not perfect. As car code scanners go they seem to improve with every passing year. If you decide to buy the 3100 code reader this is what you'll get in the box.
The OBD2 3100i scanner, OBDII 16-pin DLC cable, PC software and usb cable, Understanding OBD video, manual and warranty card. A few things I would like to mention about the package.
The OBD cable is very short probably somewhere under a foot. This means you are hunched over or on your knees instead of sitting back comfortably in the drivers seat.
You may want to buy a 5 foot extension cable so that you can move around while you are looking at the live data stream. Sometimes I like to go to a connector and wiggle it just a little bit as I look at those sensor voltage readings.
This is a good way to check for a poor or corroded connections. This would be impossible with the included OBD II cable. Another thing I've seen people complain about in the reviews is the color of the back-lit LCD screen.
The color is a light gray instead of the bluish colored that's shown on most websites. I'm not sure why this is, but many are disappointed the display doesn't look like the pictures on the websites.
Although the light gray back-lit screen and blue text is not the best out of the car code scanners I've seen, I had no trouble reading the data display even without my glasses.
Many reviewers noted they would have liked a much crisper and cleaner presentation. And you can get that sharper screen on the newest models. Can you buy a better scanner? The answer is yes, but you'll have to spend more money.
The innova 3100 provides a lot of good features for the price range. When it comes to car code scanners there are lots of choices available. If you are willing to spend more money you can head over to my auto scanners review page to read reviews about models I use.
Give this page a share with a friend having check engine light problems.
If you are having trouble getting your check engine light to go out or stay out I've put together a page that talks about a few common check engine light problems.
Do you need to print a diagnostic tree chart for the set trouble code? Learn how on my page about online car repair manuals.
Do you own a portable PC and are interested in trying to hook it up to your car. This next page reviews a couple PC car code scanners.
If you have never been to the you fix cars website stop by the home page and get a review of what kinds of information you can find here. This next link takes you there and can help you find more answers to auto repair questions.
---