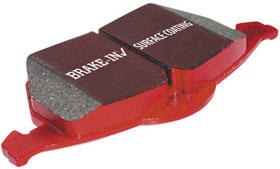 This brake job video from Haynes auto repair manuals is one of the better ones I've seen on the Internet.
Not only does it show you the basic principles of operation, but it also provides a few expert tips that I find my coworkers often skip. Especially when tightening the caliper retaining bolts.
---
---
In the video you'll see the technician using a click type torque wrench and tightening the bolts to manufacturer specifications. This is so important for the next guy doing a brake job. Often I see auto mechanics crushing down on the caliper bolts.
I suppose that over tight is better than loose, but it can cause problems the next time a brake job is required. Stripped or seized caliper retaining bolts can be a big problem on higher mileage vehicles. So tighten it with a torque wrench.
If you liked this brake job video give it a share.
Brake Pad Maintenance Discussion
Yes, I think the video did a good job of showing you what's involved in the repair procedure. It was also interesting that the car mechanic in the video had gloves on but no mask or safety glasses.
I wear them and explain why on my auto repair illness page. I would also like to say to someone who has never done a brake job that this should be done under the supervision of a qualified mechanic.
After you perform a few brake jobs, you will be able to go it alone with confidence and teach others. The reason I state this is that automobile brakes is a major safety repair.
In fact, it is one of the only automotive repairs that is capable of harming not only the driver, but the general public as well.
If the vehicle doesn't stop well, after a brake job I would consider this an accident waiting to happen. I also wanted you to know that after I install brake pads on a vehicle I always drive it!
You should drive the automobile a good distance and test the braking ability in a safe environment with no traffic or pedestrians that could be injured. A road-test in an empty parking lot works well.
I will also heat the brakes up with several panic stops. This will seat the brake pads and remove any UN even factory finish from the replacement pads themselves.
After I performed several panic stops I allow them to cool and then I will go on a second road test just to be sure I feel the same pedal the driver will feel.
Why would you take the time to drive the car twice? You need to be assured that the vehicle stops the same way it did before the repairs.
It is critical that the driver has the same or better pedal feel before and after a maintenance brake job is performed. When it comes to car brakes you can never learn too much or be too safe.
The replacement brake pads will come with instructions to be followed to the letter. In addition, you can find more information in a car repair manual made just for your vehicle.
Also instead of just a slap and go pad replacement consider checking the rotors are replacing them with new ones. They are often not very expensive depending on the year make and model. Here is a link to some of the Best selling brake rotors.
My main page that supplies videos on auto repair is becoming very popular. See what else is available. This next link takes from the brake job video to auto repair videos.
The you fix cars website has a homepage. You can get a brief run down of what else is available here. Also see what the mechanic that built it thinks about auto repair questions.
---