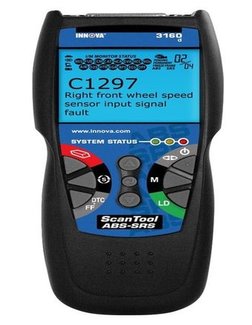 The Innova 3160B auto scanner is an interesting tool and I thought I would provide a quick review of some of the unique features offered in this inexpensive scan tool.
As I write this Innova is launching the 31603. It's basically the same unit with some minor upgrades and a modern look. However, they are both still available and the older model is a little cheaper at this time.
---
---
I didn't buy this unit yet, but I'm seriously considering it. The local tool man gave me a demonstration walk through and then let me try it on a couple vehicles.
I thought it worked really well and considered it a tremendous value for the price point. I decided to do some research on it and what I found was not all good. One of the main benefits of the diagnostic tool is it will scan for air bag and ABS codes from the body computer.
In addition it will read transmission and regular check engine light codes from the powertrain control module on 1996 and up cars and light trucks. It turns out that the ABS scanning function will not work on all domestic vehicles.
And coverage for foreign cars is spotty. Since I mostly work on domestic vehicles I thought I would be okay with this. After checking into it I found a few people complaining about uncovered domestic vehicles from 1996 and up.
You would think this thing would scan all GM vehicles, but some Chevy's are built through a joint venture with Korea and other Asian countries. Innova is not trying to hide the fact that not all cars are covered. They provide a coverage chart for potential buyers.
If you want to pull SRS or ABS codes make sure your automobile is on it. Here is a link to the ABS coverage chart. Note: The chart is a PDF file that is flipped on it's side, you can zoom in and magnify the size and it opens in a new window. If you're having problems reading it or finding specific autos do yourself a favor and just print it out.
This makes it much easier to review. I own several Innova auto scanners and have been happy with the reliability and performance.
I also own an older Equus 3120 and still use it. It's been several years since I have bought an automotive scanner. The reason I am looking to purchase one now is because I would like to check for ABS codes on domestic vehicles. I'm not interested in common air bag codes functionality because I try to steer clear of this system.
Equus or Innova Brand Scanners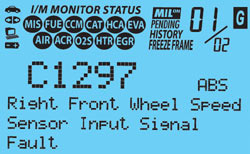 After being able to use the Innova 3160B OBDII and ABS/SRS Scan Tool I think what I liked the best about it was the screen and the display.
It displays a lot of data at one time without having to cycle through menus like others with the same size screen. For do-it-yourself auto mechanics there is an added feature called repair solutions.
This is an extremely interesting breakthrough for driveway mechanics. Basically when the unit is connected and a check engine light code is pulled up, the unit can interface with a PC and provide common fixes for that failure on that specific vehicle.
This is similar to what Car MD has been doing for years. Keep in mind this is not saying exactly what's wrong with the vehicle it's just pointing out some of the common problems that can cause that trouble code to set.
Reading the reviews about this function some people have complained about the spotty coverage and clunky synchronizing procedure. Since this is a new feature it may improve going forward.
The difference between this tool and the 3140 and the new 31403 is ability to scan for SRS & ABS codes and the unit's capability to provide common solutions to related problems.
However, when it comes to check engine light codes, this auto scanner is much like the rest of the units offered by other manufacturers. The 3160 will read and erase check engine light codes and provides a description of what that code means right on the screen.
It's compatible with OBD-II and CAN vehicles 1996 and up.  It will read both generic and manufacturer specific codes for many, but not all foreign and domestic automobiles. The scanner also provides a Visual indicator when it is communicating with the vehicle which I like.
Surprisingly it also has some advanced features like being able to read pending trouble codes. It's got a snapshot mode which they call live freeze frame. This allows you to record the scan tool data at the time of a fault during a road test. This can be helpful for pain in the neck intermittent problems.
The Bad Stuff About This Scan Tool
When I was reading about the Innova auto scanner It was mentioned in a forum that the 3150 was the same tool. I wasn't sure on this, since it costs less. So I checked into it more.
First the the cheaper one doesn't have a back-lit screen. Some people won't care about this. But here are the other things missing. the 3150 has a 30 second delay so the OBD2 data stream is not really Live.
The 3160b has all 10 modes of OBDII operation and a faster Bi-Directional Control that allows for Service Mode 8 – EVAP. This also allows it to Record, Graph and Playback Live Data on the Screen.
When reading the user reviews I noticed some people were complaining about installing and updating the on-board software. Apparently this is a necessary operation for updating the common fixes that are provided in the handy repair solutions function. Since this tool is fairly new it does seem that there may be a few bugs in the connection and upgrading process.
At the time of this writing there were still mostly positive reviews. A couple of the negative ones caught my attention because they were having problems when trying to use a Windows 7 machine to upgrade the auto scanner.
When I demoed the unit from the tool man he apparently had already updated the software and therefore I cannot report on any of the difficulties about upgrading the automotive scan tool. I just wanted you to be aware that there may be issues in this respect.
Automotive Scanners and Resources
I currently own three automotive scanning tools that do not check abs codes. I provide more information about them from this next link that covers OBD II only auto scanner reviews.
If you are looking for more on specific repairs for common codes I have some good material that covers check engine light problems.
---