Auto repair tools with a twist that weekend driveway warriors are going to like. The do it yourself car mechanics visiting this website have spoken loud and clear. They want the good stuff and I'm not talking about Craftsman tools from the local Sears store.
People on the front lines of home repairs want professional tools from name brand providers with a warranty to replace failed equipment. Top of the line used auto repair tools are a tremendous value, because most carry a lifetime warranty.
---
---
If you buy a used tool and it breaks you can have it replaced by a local dealer. You can find these tool dealers in the phone book. The big company's hate this so although this is true at the time of this writing, it will probably not last forever.
I myself as a car mechanic for the past 30 years have purchased high quality tools and most of these are still in my box and have never broken. In fact my toolbox is the original one that I purchased when I first got in the automotive repair business. So there is something to be said for the durability and also the reliability of these name brands.
Buying Used Tools Online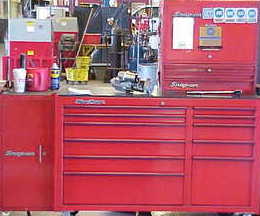 On this page I will have the eBay live auction widgets that will provide some examples of name brand high quality specialty tools for the repair of automobiles.
Sometimes they'll have name brand toolboxes and in rare cases these boxes are filled with used standard and specialized automotive equipment.
I would consider a set from a retired mechanic or one that decided to bail out of the business as an opportunity. These are some of the best deals when you are lucky enough to run into one.
This is often a buyers market where the seller just wants out. They don't want to pay storage fee's and lugging these things around when moving is a giant pain. Plus some really unique and hard to find items pop up here.
The eBay live auction box is of the scrolling variety. It only displays about 20 items, but refreshes often. You can click on any link and it will take you to the main category over at the Ebay site. This way you can see everything up for auction and not just the ones ready to expire. If you are serious about fixing cars why not have the same tools that professional auto mechanics have?
Car Repair Tool Auctions
Note that sometimes these widgets are not 100% reliable on the automotive equipment results they display. You can always click on any link for more information about that item. This will also take you to the live auctions that can be sorted by keywords or time remaining. If your looking for even more tools to fix cars visit my page about brand new automotive special tools.
This next tool widget focuses on Lisle Tools. This affordable brand is often found in auto parts stores or automotive chain operations like Pep boys. Their strong point is providing tools designed to complete specific repairs. Axle nut sockets, door panel tools, spark testers, mechanic stethoscopes and probably more than a thousand other single items. 
The most popular section on this automobile website is the short clip section. You can learn quite a bit from these car repair videos. If you would like a simple run down of what is available on the you fix cars site this next link takes you to the Homepage for YouFixCars.com.
---