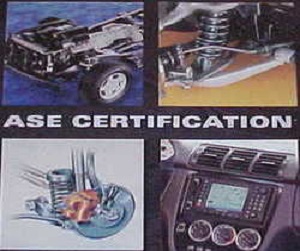 In my opinion ASE study guides are an important part of passing these difficult tests the first time you take them. Finding study guides with up to date information is critical. Delmar learning updated there offering in 2012 and some in 2014. These are the latest technical questions I've seen (available below).
The agency I work for has pulled back their support for technicians interested in taking the certification tests. They use to reimburse us for the tests passed. The only support they provide now is a box of old tests preparation manuals for us to sign out and study from. The problem is these manuals were written in 1996.
---
---
It's nice they're free, but the information contained inside is very outdated. Still some of the old preparation materials are useful for the basic tests like engine repair. However, when it comes to engine performance these manuals written in 1996 really don't apply to the questions you find on today's ASE tests.
The most important thing that you should consider when purchasing any ASE study guide is to find one with the most recent material. The Individual preparation manuals on this page were updated a few years ago which seems adequate. The all in one manual from Halderman is a good deal in my opinion and published in 2014.
After searching on the Internet for quite some time this was the most up-to-date information I could find. The good news is the ASE test questions are centered around this year. It's rare to find questions that will only apply to vehicles newer than a 2013 model year.
When I say rare I actually haven't seen questions that focus on 2015 model years and beyond. They may begin to surface in the near future. In my last test taking adventure I didn't see any questions about multiplex systems, electric power steering or fiber-optic technology.
If you plan on taking multiple tests you may consider purchasing a more expensive manual that includes all of the study guides in one convenient package despite it being a little older. Instead of purchasing each individual study guide at a cost of between 15 and $20. These all-in-one packages usually sell for about $60 which will save you money in the long run.
Testing Without Preparation Manuals
One test that I have not been able to pass is the L1 certification. This is also one study guide our shop does not have a copy of. My reluctance to purchase the manual on my own has led to three failed attempts at passing the L1 certification.
In fact, this has been an extremely frustrating test taking experience. In my first attempt I failed by one question. My second attempt I failed by three questions. After taking the L1 the third time and missing by four questions I decided to give up.
One reason I surrendered was because the L1 is not necessary to maintain my certified Master technician status. People who know me are surprised I gave up. It seemed like the more I took it the further away I got from passing the exam. This coupled with the constant re-certification required in the 16 areas I hold took the wind from my sails.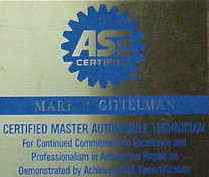 Many people when surfing the Internet wonder if people who provide these websites and information are who they say they are. And I don't blame you for being skeptical about statements made on websites.
I am a certified Master technician with 30 years of experience. I have posted my ase test results, which were re-certification's on my blog. You can visit the blog for proof of my statements. Before you go, give this auto repair resource page a bookmark. Then come back and get some ASE guides.
There is a lot of free information on the you fix cars website that may also assist in the preparation of your test taking, so take a look around.
Another thing I found useful was reading through the manual that came with my fluke meter. Keep in mind this information should not be considered a replacement or substitute for ASE study guides, but it can provide a perspective from a different angle.
The main advantage of having quality study materials is it provides a breakdown of the categories and questions that you see on the tests. When you purchase a guide they don't contain the exact questions seen on the test. This is because the tests have an ever-changing format. This prevents an unfair advantage.
In addition to purchasing ASE study guides I also buy books about the individual subjects. You can see some of my top picks at this next link about learning auto repair.
For me taking these tests is a huge inconvenience. They also pull money directly from my pocket. I wind up over preparing because it is so important to me that I pass on my first attempt.
If you would like to find out what other types of auto repair information is covered on this website this next link will take you from ase study guides to auto repair help.
---