Finding Auto Repair Information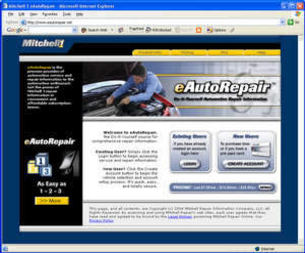 E-Autorepair for Diy'ers
Finding auto repair information can be challenging whether you're thumbing through a paper repair manual the size of a phone book or using the latest professional grade online subscription-based troubleshooting programs.
When automobile repair technicians or DIY car mechanics are looking for one specific page out of hundreds of pages of information the eyes can get tired. In fact, you might be able to compare this to finding a needle in a haystack. In some cases you might want to quit or get angry at the reference material, because what you're looking for isn't included.
Even worse is when people give up looking and start throwing new parts at the problem. This page and the video at the bottom was created to help you think about it differently. Finding auto repair information needed to get the job done efficiently is worth the effort. What you are looking for could be hiding and may not be located in the area that makes sense to you.
Searching for Repair Diagrams

In the video below I use Chevrolet service manuals as an example of how what your looking for may not appear to be there on the first search. But if you keep digging you can often find exactly what you are looking for.

Although I am using the online version in this example the same rules apply to factory printed manuals. Many times I have spent 20 minutes or more thumbing through a factor publication looking for a wiring diagram or step by step repair instructions for a specific repair.
It can be frustrating, but having this information can greatly reduce the repair time and save you money. In the video about the Chevrolet repair manual, I received an e-mail support question from several Diy auto mechanics that purchased a subscription through my link.
They stated that they could not find a wiring diagram for the blower motor circuit on a 1998 Chevy Tahoe. I knew that the wiring diagram was in there because I have seen it and used it before to find components and fix problems.
But when I went to search for it myself, I also came up with nothing. This was due to a missing link when the program was put together. The link to the diagram was not being displayed from the search function but it was still in there somewhere.
There are many ways to skin a cat and I was able to find the missing wiring diagram (example below). The moral of the story is don't give up on finding auto repair information needed to make the job easier. If you think it's in the factory manual it's most likely in the online version.
Find Wiring Diagrams in a Chevy Repair Manual

Auto Repair Information from
Mitchell 1
.
Need more information about how to use online programs to fix cars? This next page has another video with a specific example of how to use car service manuals for more efficient driveway repairs.
Find out why this car repair website can help in several different areas of the automobile on the home page. This next link takes you to more auto repair information.